CAMP CARROLL, Republic of Korea — Camp Carroll and Camp Walker first responders and operations specialists worked in tandem with 2nd Combat Aviation Brigade aircrews—providing logistical support and technical expertise to Daegu-area firefighters and Korean partners battling local wildfires March 10-11, 2022.
Both U.S. Army Garrison Daegu and the 2nd Combat Aviation Brigade have released footage of the wildfire firefighting response on the Defense Information Visual Distribution Service, which is available here, here and here.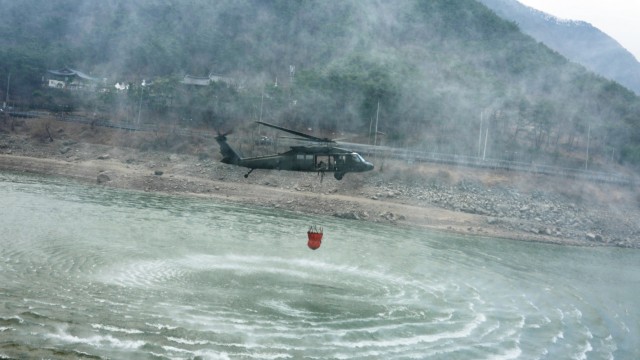 Soldiers from the 2nd Combat Aviation Brigade, 2nd Infantry Division/ROK-US Combined Division supported a vast network of Korean firefighters and emergency response personnel putting out wildfires in Daegu, Republic of Korea. 2nd Combat Aviation Brigade Aircrews utilized two CH-47 Chinook and three UH-60 Blackhawk helicopters configured with a Bambi Bucket to drop water onto the fires to assist the Republic of Korea in stopping the spread of the blaze.
"This was a great opportunity today to work with our Korean partners and solidify our alliance by assisting the city of Daegu with their firefighting. It was an honor to be out here and to have my Soldiers participate in this great humanitarian mission," said Lt. Col. Bridget Dalziel, 2-2 Assault Helicopter Battalion Commander.
USAG Daegu Fire & Emergency Services provided firefighters as standby support during refueling operations at Camp Walker. The team also provided a liaison to ensure seamless communication with the U.S. Army and mutual aid partners.