Latest – Azeem Rafiq said the ban on Yorkshire from hosting internationals over the handling of his racism allegations should be lifted as the county club is taking steps in the right direction to bring about change.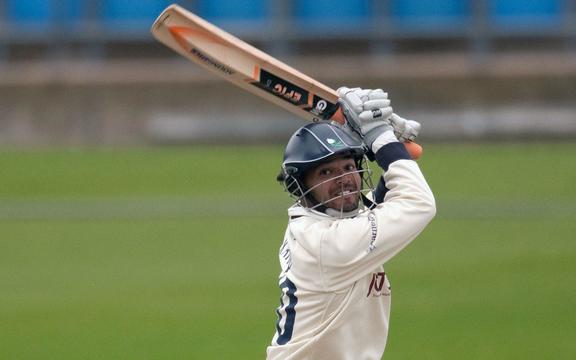 Photo: PHOTOSPORT
In November, the 30-year-old former England Under-19 captain, who is of Pakistani descent and played for Yorkshire from 2008-14, told a British parliamentary committee he had suffered "inhuman" treatment in his time with the county.
The scandal shook English sport and cost Yorkshire sponsors, with the England and Wales Cricket Board suspending the county from hosting international or major matches at Headingley.
New Yorkshire Chairman Kamlesh Patel promised "seismic change" when he took over from Roger Hutton.
"It has been a whirlwind since I appeared in front of MPs almost two months ago, and what Yorkshire and Lord Patel have done to bring change is definitely a step in the right direction," Rafiq wrote in his Daily Mail column.
"That's why I believe the time is right to say they should be given back the international cricket so vital to their very survival. The people of Yorkshire should be able to watch England in test and white-ball games at Headingley this summer."
Rafiq said the county needed support to move in the right direction.
–Reuters
Klopp very positive about Salah negotiations
Liverpool manager Juergen Klopp said he was staying positive that Mohamed Salah would sign a new contract at the club and said contract negotiations were nothing to worry about.
Egypt international Salah, the Premier League's top scorer this season with 16 goals, is contracted to Liverpool until 2023 and maintains that he wants to stay at the club.
Contact negotiations are in progress and in an interview with GQ magazine, the 29-year-old Salah said he was not demanding "crazy things", but added the situation was in the club's hands.
The subject inevitably turned to Salah when Klopp spoke to reporters in his news conference ahead of Liverpool's League Cup semi-final against Arsenal on Thursday.
"I'm very positive about it but I don't think it makes sense that you speak on behalf of the fans because I'm pretty sure the fans are not as nervous as you are," Klopp said.
"They know the club pretty long and know the people dealing here with the different things pretty long, so I think there are enough reasons for being positive. But as long as it is not done we cannot say anything about it.
"But, good conversations — that's what I can say."
Former Chelsea player Salah has been a fundamental part of Liverpool's success under Klopp, scoring 111 Premier League goals in four-and-a-half seasons at Anfield.
His interview with GQ, in which he said whether he stays or goes "is not in my hands" would have worried Liverpool's fans who adore him and sing his name with passion.
"Nowadays it's dangerous with these interviews. We know, I know that Mo wants to say, we want him to stay. That's where we are. These things take time, I cannot change it," Klopp said.
"There are so many things in negotiations. It's a third party too with the agent, it's nothing to worry about; it's a normal process."
–Reuters
Bumrah takes five as India move ahead in third test
Jasprit Bumrah took 5-42 as India bowled South Africa out for 210 and then drove home their advantage with the bat as the ended day two of the decisive third and final test on 57 for two in their second innings at Newlands.
India's lead is 70, already a sizeable one on a difficult, seaming wicket that is offering plenty of assistance to the bowlers and has seen 22 wickets fall on the opening two days of the contest.
Captain Virat Kohli is not out 14 in an unbeaten partnership of 33 with Cheteshwar Pujara (9) and they will attempt to take the game away from the home team on the third morning as they chase a first ever series win in South Africa.
Both openers have been dismissed as Mayank Agarwal (7) was caught by Dean Elgar off Kagiso Rabada and KL Rahul (10) was grabbed by Aiden Markram at slip from the bowling of Marco Jansen.
Bumrah gave a masterclass of seam bowling in the South African innings as he got the ball to move both ways and at times leap off the surface.
Keegan Petersen scored a career-best 72 for the home side but played almost a lone hand in the innings with the next highest score Temba Bavuma's 28.
Petersen, in just his fifth test, showed admirable patience as he batted for 166 balls before becoming the fourth victim for Bumrah when he edged to Pujara at slip.
It is the kind of surface where batsmen never quite feel settled at the crease and the fact that the ball might misbehave at any point is always in their minds.
Mohammed Shami (2-39), Umesh Yadav (2-64) and Shardul Thakur (1-37) were also among the wicket-takers for the tourists.
The series is level at 1-1 after India won the first test in Pretoria by 113 runs, before South Africa bounced back to claim the second in Johannesburg by seven wickets.
–Reuters
American Pierson set for Le Mans 24 Hours debut aged 16
American Josh Pierson is set to debut in the 24 Hours of Le Mans sportscar race aged only 16 after being confirmed as the youngest ever competitor in the World Endurance Championship (WEC).
Pierson, who is currently 15 and celebrates his birthday in February, is racing for British-based United Autosports in the second tier LMP2 category.
He will join British racers Oliver Jarvis and Alex Lynn in the team's second Oreca 07 entry.
The current youngest driver ever to compete in the Le Mans 24 Hours is Pierson's compatriot Matthew McMurry, who was 16 years and 202 days when he raced in the 2014 edition.
Before him, it was Mexican Ricardo Rodriguez in 1959 aged 17 and 126 days.
WEC organisers said season 10 would see the championship's biggest ever grid with 39 full entrants from 12 different countries.
The top Hypercar category has six entries from champions Toyota, Peugeot, Alpine and Glickenhaus while 15 cars will compete in LMP2.
There are also two all-female lineups — Richard Mille in LMP2 and Iron Dames in LMGTE Am.
The WEC will also use a 100% renewable biofuel, developed by TotalEnergies, this year.
The season starts at Sebring, Florida, in March with Le Mans scheduled for June 11-12.
–Reuters