Navigation for News Categories
Latest – New Zealand fast bowler Kyle Jamieson has been fined 15 per cent of his match fee for using inappropriate language after taking a wicket during Bangladesh's first innings in the second test in Christchurch.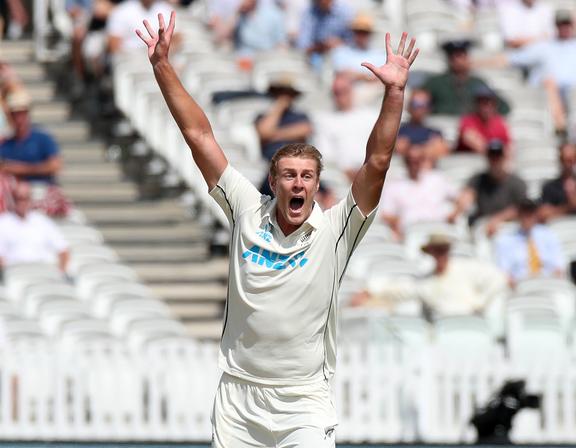 Photo: PHOTOSPORT
The Black Caps won the match by an innings and 117 runs to level the two-match series 1-1.
Jamieson was found to have breached Article 2.5 of the ICC Code of Conduct for Players and Player Support Personnel, which relates to "using language, actions or gestures which disparage or which could provoke an aggressive reaction from a batter upon his/her dismissal during an International Match."
In addition to this, one demerit point has been added to the disciplinary record of Jamieson, for whom it was the third offence in a 24-month period, taking his cumulative demerit points to three.
Jamieson's previous breaches were on 23 March 2021 during an ODI against Bangladesh in Christchurch, and on 28 December 2020 in a Test match against Pakistan in Tauranga.
The incident occurred in the 41st over of Bangladesh's first innings on Monday, when Jamieson used inappropriate language after dismissing Yasir Ali.
Jamieson admitted the offence and accepted the sanction proposed
Dutch athletes warned to keep phones and laptops out of China for Winter Games
Dutch athletes competing in next month's Beijing Winter Olympics will need to leave their phones and laptops at home in an unprecedented move to avoid Chinese espionage, Dutch newspaper De Volkskrant reported.
The urgent advice to athletes and supporting staff to not bring any personal devices to China was part of a set of measures proposed by the Dutch Olympic Committee (NOCNSF) to deal with any possible interference by Chinese state agents, the paper said citing sources close to the matter.
NOCNSF spokesman Geert Slot said cyber security was part of the risk assessment made for the trip to China, but declined to comment on any specific measure.
"The importance of cyber security of course has grown over the years", Slot said. "But China has completely closed off its internet, which makes it a specific case."
Dutch team members will be equipped with unused devices in China, to protect their personal data from Chinese surveillance, the sources told De Volkskrant.
At least 30 Dutch athletes are set to compete in next month's Beijing Olympics, mainly in the speed and short track skating events.
–Reuters
Five Champions Cup matches cancelled, declared 0-0 draws
Five Champions Cup rugby matches that were postponed because of the French government's COVID-19 travel restrictions have been cancelled.
The five games, and two more in the Challenge Cup, will be classified as 0-0 results.
This weekend's third round fixtures are expected to go ahead as scheduled, however, with the French government set to lift a mandatory 48-hour isolation period for visitors.
Travellers from the UK must currently self-isolate upon arrival on French territory.
The isolation can be waived after 48 hours on presentation of a negative COVID-19 test, but English clubs were nevertheless contemplating a boycott over the shortened quarantine, given the extra costs and scheduling problems involved.
The French sports ministry said in a statement that decisions about sports teams will be "formalised in the next few days but we are moving towards greater flexibility."
–Reuters
Chinese broadcaster ordered to pay Premier League over TV deal
The Premier League was awarded $314 million by London's High Court following the collapse of their broadcast deal with China's PPLive Sports International.
The Premier League terminated their contract with PPLive in September 2020 after the broadcaster, part of the retail group Suning that also owns Serie A club Inter Milan, defaulted on payments due in March and June that year.
Judge Peter Fraser ruled that PPLive owed the Premier League the money as part of the deal's live action and clips package agreements, respectively, as well as interest.
"The Premier League welcomes the judgment handed down by the High Court today relating to non-payment of fees by PPLive, its former broadcast partner in China," the league said in a statement.
"The Premier League will robustly enforce its contractual rights when it has no other option available. The League notes the judge's view that PPLive had 'no real prospect of success' defending the claim."
"The bar is high for a summary judgment application and this decision highlights the strength of the League's case."
–Reuters