Mesoamerican crafts, 1950s cantinas, and mysterious mezcal bars.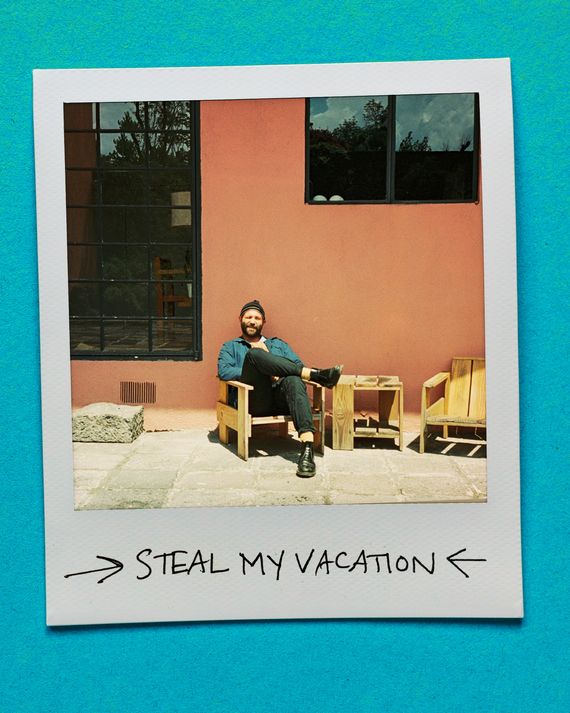 Photo-Illustration: Photo by: Alex Tieghi-Walker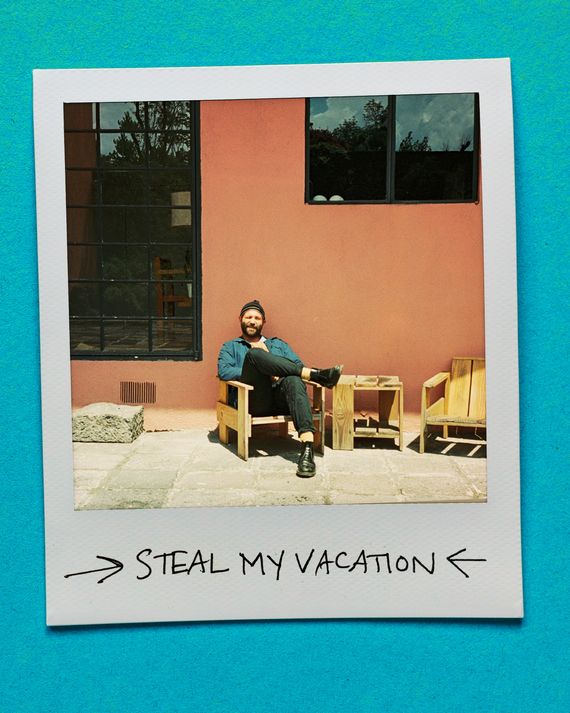 Photo-Illustration: Photo by: Alex Tieghi-Walker
Everyone knows that person who spends weeks sniffing around travel blogs, going deep into Tripadvisor rabbit holes, collecting Google docs from friends of friends, and creating A Beautiful Mind–style spreadsheets to come up with the best vacations and itineraries possible. In this recurring series, we find those people who've done all the work for you and have them walk us through a particularly wonderful, especially well-thought-out vacation they took that you can actually steal.
As the founder of Tiwa Select, a Los Angeles gallery that showcases self-taught artists and makers, Alex Tieghi-Walker has perfectly honed his ability to sleuth out singular, can't-find-it-anywhere-else objects. One of his favorite places to do exactly that is Mexico City, where Tieghi-Walker has previously visited for weeks-long stretches (thanks in part to a group of local friends). Tieghi-Walker returned to Mexico City recently for his fourth trip — his first since the pandemic — on his way back from Rome. He stayed long enough to quarantine before being allowed back into the United States, but at the Strategist's request, he told us how he would do the trip in five days if he had to. Here, Tieghi-Walker shares his favorite craft shops and tostadas, plus the B-side Barragán house worth a visit.
In the past, I've taken this gnarly night flight from Los Angeles that gets you into Mexico City super-early, like at 4 a.m. You crash and have an awful first day, so no more of that flight. Now I just book whatever airline is cheapest with the best timing, and I like to compare emissions between different planes on Google Flights. This time, coming from Rome, I landed in the afternoon and went straight to Casa Bosques Pensión (Córdoba 25; from $150), a new three-room hotel that my friend Rafael Prieto operates above his art bookshop in Roma Norte. He also runs a chocolate factory out of the kitchen. This year, he turned his upstairs design studio into a hotel that's perfect for my generation of travelers who just need some good Wi-Fi and thoughtful design. Rafael's artist boyfriend, Loup Sarion, made the bedside lamp fixtures and ceramic coat hooks; Rafael constructed giant cotton wall lamps that fill the room with gentle light. But honestly, Airbnbs in Mexico City are really good. Some cities just have terrible Airbnbs, and some have really amazing stock. I've stayed in some magical places. This apartment with a garden in Roma was great. As was this two-bedroom one; the owner, Maria, is an architect and has filled the home with beautiful details like the monochrome tiled floors and brickwork.
This area of Mexico City is very green with lots of fountains. There are also a lot of creative tourists and creative people from all over Mexico living here, so the energy is palpable. After checking in, I spent the afternoon walking around, popping into stores. I love buying cookware when I'm in Mexico, and there's a whole little neighborhood of shops selling enameled pans and wooden spoons just south of Centro on the border of the Juárez neighborhood; Calles Versalles and Londres are great blocks to explore, and Cicatriz Cafe (Calle Dinamarca 44) is a lovely place to laze about for a moment. There's one specific shop in Juárez called Utilitario Mexicano (Calle Marsella 3a), which is sort of like a Mexican Muji. It sells Mexican versions of really basic homewares, like little metal picnic cups that are really good for parties, and tea towels and washcloths and things that are made really nicely here and are kind of cheap.
There's a great lunch spot in Juárez called Masala y Maíz (Calle Marsella 72), which is run by a couple: Norma Listman, who's Mexican, and Saqib Keval, who's Indian. They've created this amazing Mexican-Indian-African fusion restaurant that's open at lunchtime and into the afternoon, and I always try to pop in. Every time I go, the menu is wildly different. I remember pickles made with Ethiopian spices on my last visit, and clams cooked in coconut milk with turmeric and cumin on another. After that, I'll text friends to see who's around and wants to go for a drink. Mexico City has a very laid-back feel where plans are very spontaneous, which is something I desperately miss when I'm in Los Angeles. But here, you can just walk around and bump into a group of people having a beer at a table.
When you stay at Pensión, you get the keys to the bookshop, and when you come in at night or leave in the morning, it's just your space. So in the mornings, I'll step out for a coffee, bring it back, and read a book on the sofa at Casa Bosques. The coffee shop I love is one of the more well known in the city, Panadería Rosetta (Colima 179), an Italian-French–meets–Mexican bakery founded by Elena Reygadas, who has really become a face of modern Mexican cuisine and has a fine-dining restaurant, Rosetta, just across the street. At the bakery, I always get these amazing cardamom breakfast buns.
I think the botanical garden of any capital city represents the flora and fauna of that country, and the Jardín Botánico UNAM really taps into the local ecology. My favorite part is the lava garden, which is built partly on a lake bed and partly on an ancient lava flow. You've got this incredible black pumice rock that's used in the architecture around the city, both old and new, but it's rare to see it in its sort of natural state. There are little geckos and newts running in and out of these giant rocks, with incredible succulents and cacti growing all around. It's like being in Jurassic Park; you can imagine that it's what the whole valley would have looked like. But it's weird, people rarely go there — it's not really on the tourist map.
[Editor's note: the Jardín Botánico UNAM will be closed for the holidays from December 17 to January 6.]
Next door, the Biblioteca Central UNAM is worth enjoying just from the outside. It was designed and painted by Juan O'Gorman in the 1950s, and he really wanted it to show everything Mexico was about. So he created this insane mosaic mural that covers every inch of the building and showcases Mexican knowledge from the natural world through to the modern day. It shows the good and the bad, including the colonization of Mexico — there's one moment where you see priests with guns and indigenous Mexican settlements in flames. You could spend a whole day looking at this building.
Don't overlook Santa María la Ribera, a magical little neighborhood northeast of Centro. It's a former colonia and is home to the Universitario del Chopo, which gives it a sort of scrappy, student feel. In the center of Alameda Park, there's a Moorish gazebo that's especially fun during the evenings on weekends; it's like the social hub of the neighborhood. Just at the corner of the park, pop into Cantina Salón Paris (Jaime Torres Bodet 153B) for a drink. This whole part of town is a great place for authentic cantinas that feel unchanged since the 1950s.
Some of the best things I've ever bought in my life came from the Lagunilla Flea Market (Ignacio Allende 127), which is open only on Sundays. It can be slightly daunting; you punch the address into Uber, but then you get dropped off near a network of alleyways and lanes and squares and you have to find your way from there. Some vendors are selling beautiful old books about Mexican art and ceramics. There are others selling fake Aztec and Mayan beads and necklaces that they claim are old but definitely aren't. (Generally, the fakes have a cheesy polish to them, while the real stuff has a bit more patina.) But so many vendors are selling really gorgeous antiques, ceramics, porcelain, and pottery, plus a lot of mid-century stuff. This past trip, I went home with a set of 1940s Oaxacan bowls; last time, I lugged two giant cardboard-mounted ink-drawn posters from the 1920s back on my lap on the plane. It's how a flea market should be. You can wander around with a michelada or a beer, which is technically illegal, but apparently, here you can get away with it.
Oh God, there's so much hype around Contramar (Durango 200), but it exceeds all expectations. It's a huge room of simple square tables with white tablecloths, and they just serve fish, basically. People say Mexico City has the world's second-largest fish market after Tokyo because of its location between the Atlantic and the Pacific, which is one reason the seafood here is so delicious. Gabriela Cámara, the chef-owner, kept the menu really simple, like spicy-tuna tostadas and shrimp cocktail. There's something kind of 1980s about it but also something quite grandma-y about it. The real trick is to order just a few things at a time and let your stomach choose your adventure. I've been when someone orders a million tostadas and you get so full, then it's just a tease seeing dishes come out that you can't squeeze in. Dessert is piled high on a metal trolley and wheeled over to your table, and you get to pick a slice of whichever cake you want.
After lunch, I made sure to swing by my friend Su Wu's shop, Casa Ahorita, which she opened out of the ground floor of her house in the Roma neighborhood. It's always worth a visit. She's very thorough in her research and very fascinated by artisan folk crafts, but she's also very playful. So she's selling beautiful ceramics and textiles, but there's a silliness to it — like big fluffy balls made of sheepskin that's dyed in Chiapas. They sort of look like oversize baby toys but are made by craftsmen in an area of Mexico known for its incredible sheepskins. Ahorita means "the little now," and she just wants people to pop in for a little moment.
I love Expendio de Maíz (Av. Yucatán 84) for a bite. The kitchen is basically out on the street, and the team sources ingredients from farms pushing for social and agricultural sovereignty. You try lots of heirloom vegetables, fruits, and grains, and there's no menu, so you eat what they put in front of you. All guests don't even eat the same food, so someone nearby may be getting a hoja santa tostada with homemade ricotta, and you get a fried banana on your plate. (And it will be the best fried banana you've ever had.)
I eat all my meals really late, like an 11 a.m. breakfast and a 2 or 3 p.m. lunch, then dinner at 9 or 10 p.m. It's the European in me. So on this day, I headed to Tetetlán (Av. de Las Fuentes 180 – B). There's a huge Luis Barragán–designed house, Casa Pedregal, and this restaurant is in what used to be the house's horse stables. It's this huge roof space with a glass floor, so you're essentially walking over a fern garden. All the walls are built of volcanic rock. Downstairs, the restaurant (make a reservation!) serves traditional Mesoamerican foods, like tacos and tostadas with tortillas made from heirloom indigenous black and blue corn, plus ants and grasshoppers being smoked and fried. Upstairs, they have a shop selling very expensive folk crafts from artisans all over Mexico. They have beautiful hand-dipped beeswax candles from Oaxaca that are three feet long in incredible colors. I shipped a whole load back to my family for Christmas last year.
After lunch, roll next door to Casa Pedregal. Booking a tour is essential. A lot of people go to Casa Luis Barragán when they visit Mexico City. I highly recommend it, but this one is the least visited of his homes and it's special because with his other projects, he was on a tight budget. But this one family, they were just like, Go do your thing. He built the house specifically to showcase their collection of Mesoamerican artwork, textiles, and ceramics. The guy who owns it now is only the second person to live there. It's incredible to see the house in the context of how it's actually used. There's the owner's contact lenses next to the sink in the bathroom, mixed in with these incredible ceramics. Or you go into the kitchen and there's an open bottle of wine next to the stove.
A friend took me to Bósforo Mezcaleria (Luis Moya 31) for the first time before the pandemic, and I really had no idea what to expect. It's on a slightly strange, empty corner of town in Centro. You walk in through a thick velvet curtain, and the bar is so sensual. You're just hit by the smell of frankincense, myrrh, palo santo, and this Mexican amber called copal. The bar just serves mezcal, the owner is super-knowledgeable, and since going there I've become a total mezcal nut; I really love tobalá and espadín mezcals. They serve you roasted grasshoppers, and you're just in this dark, candlelit room listening to amazing music with amazing smells. It feels like a David Lynch version of a bar.
Every Tuesday, the street outside the Lardo bakery (Agustín Melgar 6) shuts down for the Condesa neighborhood's farmers' market. Probably two-thirds of the whole market is dedicated to produce. You'll have stores selling ten types of mushrooms from the mountains, others selling tropical fruits from the coasts, others selling all these potato varieties. At the entrance to the market, there's this Oaxacan family that sells mole, all different types. There are a lot of food vendors, but I'm very loyal to this family. Their stand doesn't have a name, but they're the first vendor when you walk in, next to Lardo. They put brightly colored plastic tablecloths around their gas stove and have bubbling pots of different foods, which you should drink with a Coca-Cola.
Supper spot Maximo Bistrot (Av. Álvaro Obregón 65 Bis) is great. I just really like the success story of these guys who own it. Their first restaurant was this tiny three-table eatery, definitely designed on a budget, and it did really well. Now they've moved on to this new space that's huge. The menu is sort of European-Italian-French fusion with Mexican cuisine. It's in an old mechanic's garage, and they worked on it with a California-based interior designer, Charles de Lisle. The environment feels like New York or London in the 1990s when restaurant culture suddenly really exploded, and it feels like eating as spectacle, rather than just for sustenance. Every detail down to the ashtray has been thought of.
Then I might try and squeeze in a cheeky hoja santa martini in the little bar above Rosetta, Salón Rosetta (Colima 166). This room is sometimes really rowdy and other times just feels really intimate and sweet, boudoir-y. It's a gentle, glamorous exit from the city.
I tend to pack light, so I like clothes that I can dress up or down. I'll wear these during the day with a T-shirt, then pop a nicer shirt and jacket over the top for evenings. I also like having lots of pockets, especially if I'm not going back to my room during the day and need to carry things like my iPhone, wallet, phone charger, etc.
I was given this at the Pensión. Generally, I like to pick up a tote from a museum or gallery when I travel; I'll use it intensely when I'm in a place to lug around purchases or snacks, then take it home as a little memento that I'll keep using over and over until it wears out ahead of my next trip.
Travel really stresses my skin: the flight, the change in climate, the increased pollution. This oil has superpowers and restores the skin really quickly. I also mix a bit of SPF into it if I know I'm going to be outside during the day.
I take a sketchbook and pens and pencils everywhere when I travel. I like to jot down sketches of things I like or color combinations I see out and around. I love flicking through my sketchbook after a trip to see what I found inspiring or interesting at the time.
The Strategist is designed to surface the most useful, expert recommendations for things to buy across the vast e-commerce landscape. Some of our latest conquests include the best acne treatments, rolling luggage, pillows for side sleepers, natural anxiety remedies, and bath towels. We update links when possible, but note that deals can expire and all prices are subject to change.
The COVID-19 situation there: Mexico is open to travelers from the United States and is not currently requiring a negative test result or a quarantine. As of December 6, travelers heading back to the United States will need to show a negative result from a COVID test taken within one day of the flight, regardless of vaccination status.
The Tiwa Select Founder's Ideal Long Weekend in Mexico City