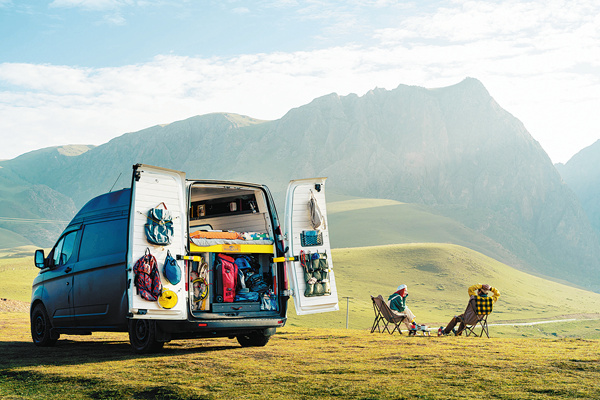 Recreational vehicles are increasingly popular for those who want the journey of a lifetime, Wang Qian reports.
When COVID-19 disrupted many people's vacation plans in 2020, travel vloggers Liu Yuxi and Liu Hongjia packed up their stuff in a camper van and hit the road. The vehicle acts as a small mobile home with infinite possibilities.
In June 2020, they started the "Rolling 30" journey, driving 14,380 kilometers from Shanghai to the Tibet autonomous region along National Highway 318 in 100 days to mark them turning 30.
Last year, they explored the ancient Silk Road route, campervanning from Beijing to the Xinjiang Uygur autonomous region. The trip was named "Rolling Silk Road".
"During our journey, every time we opened our van door, the whole world laid in front of us, from the hustle and bustle of city life to breathtaking pristine natural landscapes," Liu Yuxi says.
She still remembers the excitement when Mount Qomolangma, also known as Mount Everest, was framed in their van's backdoor. It felt like the mountain was close at hand, as if it was a neighbor.
"It was the moment that I realized although our van is small, it can lead us to a world that is big," she says, adding that the journey had changed their lives.
The couple, from Beijing, is among the increasing number of "van home" travelers in China, who pursue freedom, simplicity and a connection to nature.
Across the country, the sales of recreational vehicles surged last year to 12,582, about 43 percent more than the previous year, according to the latest report released by China Automobile Dealers Association. The number was 4,541 in 2017.
China's first self-built RV hit the road in 2001, according to Zhou Sen from the China Association of Automobile Manufacturers. He says that after 20 years' development, the country's RV and camping business is set to take off with sales in the sector growing in double digits for the past five years.
On social media platforms, like Bilibili, Douyin and Xiaohongshu, thousands of van life vloggers have posted videos about their new outdoor lifestyle.
If you search "RV" on Bilibili, you will find more than 56,000 videos, which have been viewed more than 570 million times.
Known as Xiaomo and Ahou on Bilibili, Liu Yuxi and Liu Hongjia's account has posted more than 200 videos, attracting 250,000 followers.