I'm hovering on a red carpet outside London's Royal Albert Hall. Cameras explode with flashes. Haute hubbub envelops me. I'm posing hard, sporting the sharp white tuxedo I picked out for the British Fashion Council's annual Fashion Awards ceremony, my fluffy pink tail peeking out from the Bianca Jagger-inspired look.
Yes, you read that correctly: my tail. In a surreal touch, I am attending a simulacrum of the ceremony in the metaverse, the social-meets-gam-ing virtual landscape where so much in fashion seems to be happening nowadays: from Balenciaga's excursion into Fortnite to a virtual Gucci Garden experience. And the guise I've chosen is that of a pink squirrel-like creature with, I discover, a squirrel's propensity for clambering onto every object it comes into contact with. As I rove around inside the hall, listening to the evening's host, Billy Porter, intone "Fashion is culture!" from the stage and impulse-buying a Gucci baseball cap (which sets me back 100 Robux, aka the currency of Roblox, the gaming app I'm using), I have a strange flashback to the in-person fashion events I used to attend in the halcyon days of early 2020.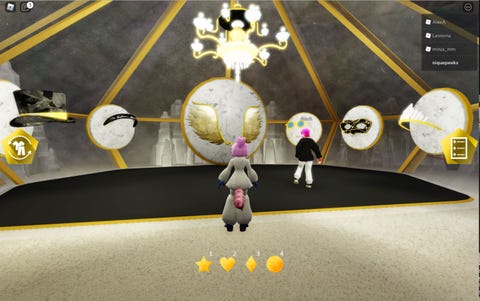 The author, in the guise of a squirrel, "attends" the Fashion Awards on Roblox.
Courtesy of the author.
Admittedly, they don't hold a candle to the real thing, but for millions of users, these virtual platforms are a way to feel part of the exclusive fashion world—and to use style to experiment in a way that real-world confines may not allow. Says Roblox's vice president of global brand partnerships, Christina Wootton, "A lot of times, when you hear from people who've experienced it virtually, they talk about it as if they were really there." (Increasingly, the virtual and the real are colliding: The night also included a new award for metaverse design, presented by a digital Alessandro Michele. This year's recipient: a Roblox user and digital fashion creator known as cSapphire.)
While many associate the metaverse with Mark Zuckerberg's tête-à-tête with his virtual avatar, the term is actually 30 years old. It was coined by the sci-fi writer Neal Stephenson to describe a virtual reality space that mimics a physical one. For some participants, those interactions serve as a way to experiment not just with style, but identity. Users can select from multiple male and female avatars as a way to explore their gender identity and can customize their body size and proportions, says Maura Welch, vice president of marketing at Together Labs, a technology company that operates the metaverse platform IMVU.
There, this past spring, seven brands, including Collina Strada and Mowalola, showed their collections as part of what media outlets like Paper billed as the metaverse's first runway show. The platform boasts 200,000 active creators; for the show, each designer was paired with a creator. (The Collina Strada design even found its way into the real world, via a dress that designer Hillary Taymour debuted on the platform and then designed IRL for Kim Petras to wear to the Met Gala.) "It broadens the audience and allows people who can't drop that money on fashion to be able to experience it," Welch says. "It's super empowering."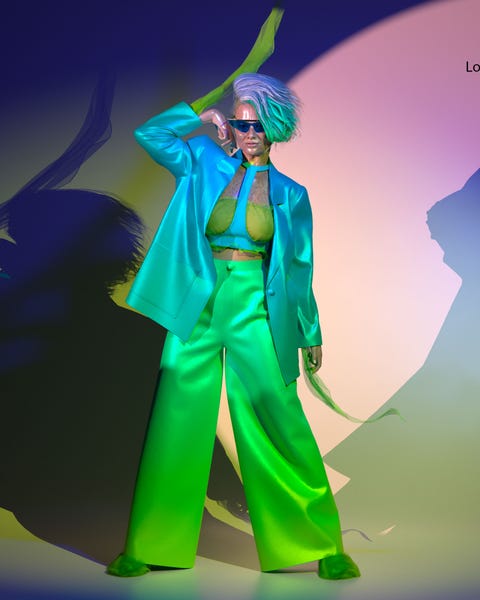 Digital fashion creators have even begun showing their wares at fashion weeks. Here, a look from Saint Petersburg-based Kreamonz's spring 2022 show in Moscow.
COURTESY OF THE DESIGNER, ELIZAVETA RADIONOVA, AND NATALIA GUSELMANN.
Empowering, perhaps. But it also feels a tad strange, as someone who's been immersed in tactile fashion for a decade and a half, to be zipping around in this imaginary space like I've been uploaded into a Philip K. Dick character's consciousness. It seems unnatural to be interacting with people as an imaginary character on a screen. Welch challenges me to consider how much I'm already doing that. "If you think about the amount of time that you spend in your digital space versus your real space," she points out, the former is starting to outweigh the latter for many of us.
We may not be disguising ourselves as fashion-forward pink squirrels, but we're fudging details or creating new identities online, whether it's alter-ing our Zoom backgrounds, Facetuning our Tinder photos, or touching up our appearances on video calls. "If you ask somebody in Gen Z if a friend was made online or in real life, they actually don't see a difference," she adds. And during the pandemic, IMVU's active user ranks grew by almost half, suggesting that people are flocking to the metaverse as a social space.
For some, it's a kind of no-rules style utopia. Maybe you aren't comfortable dressing in the clothes you want to wear, or you're worried about what people will say; the metaverse removes a lot of that friction. "The more time is spent in this virtual space, the more important your online identity becomes," Wootton says. "You may go in and say, 'I want it to look just like my real-world self,' or maybe you want it to be completely different. It feels great to be able to do that without the anxiety of how people will react, because a lot of people on the platform are so much more accepting. It's where you experiment, and express yourself in different ways."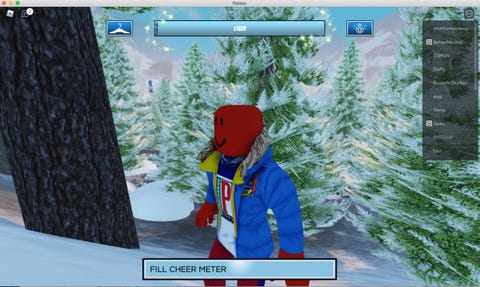 Next stop on the metaverse tour: the author replenishes her "cheer" levels at Ralph Lauren's Winter Escape pop-up.
Courtesy of the author
Those who are championing the metaverse also see it as a way to finally do that much-discussed thing—fix fashion. Though there are concerns about its energy consumption, the realm is otherwise sustainable, waste-free, and infinitely renewable without the environmental and labor costs that come with fast fashion. For designers, especially young, aspiring ones, it's a win, too. There are, after all, no supply chain issues in the metaverse. You don't need an expensive degree or bolts of pricey fabric to start creating. And you can get instant feedback, says Welch: "If you put something out in the catalog, you're going to know right away: What do people like, what do they not like? They're going to tell you." Users are particularly interested in customization, which is shaping up to be the new couture, with e-ateliers full of aspirants.
After making my Fashion Awards debut, I spend day two in the metaverse as two very different entities. First, I'm a blank-faced mannequin, visiting the Gucci Garden on Roblox in a developer's intricately pixelated re-creation of Florence. I wander through the space, collecting flowers for my head, then a Matrix-like neon maze, where I collect stripes for my outfit. Digital versions of the Italian house's wares are also on offer.
When the experience debuted, Wootton tells me, "People were setting their alarms because they were just like, 'I can't miss out on this drop.'" In some cases, they'd then resell their finds on Roblox's booming secondhand market, where prices were sometimes higher than in the real world. Reddit cofounder Alexis Ohanian tweeted about the fact that a virtual version of the house's Dionysus bag, whose physical version is priced at $3,400, resold for the equivalent of $4,115, adding, "Watch this space."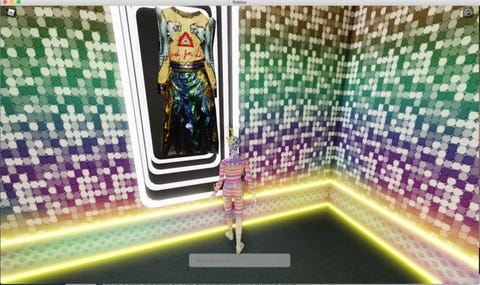 Day two in the metaverse included a jaunt to "Florence" to visit the Gucci Garden experience on Roblox.
Courtesy of the author
Next, I indulge my sporty side at the Ralph Lauren Winter Escape pop-up. This time I'm a generic jock, clad in a Polo-branded parka, doing a series of wholesome activities meant to generate "cheer," which serves as a kind of currency in this space. I vault over rocks, ice-skate, toast marshmallows, and sip on Ralph's Coffee. Alice Delahunt, the brand's chief digital and content officer, notes that while the technology feels cutting-edge, the designer has always been all about world-building. "When you've walked into a flagship store like 888 Madison Avenue, you've been transported to the Double RL Ranch"—the designer's Colorado getaway—or an Aspen chalet or Round Hill in Jamaica, she says. "We feel that his is the perfect brand to exist in the metaverse."
Even though this all feels impossibly removed from reality—and is missing some of the texture of real-life interactions, not to mention the sensual pleasure of wearing clothes and sizing up others' looks—it could soon be our reality. What the metaverse lacks in quotidian friction, it makes up for in other ways. And as we continue to replace physical interactions with digital ones, it could start to feel more normal than doing things in person.
"In the same way that we looked at websites maybe 15 to 20 years ago, we now need to be looking at the metaverse and understanding what our strategy is there," Delahunt says. And that strategy translates into real-world dollars: The brand has already sold 164,000 digital goods on the Zepeto platform. She gestures to the blue ski sweater she's wearing: "What I get really excited about in the digital world is, Does this evolve over time? Does this change and adapt to my context, my environment, my mood? Have I earned something for wearing it a certain amount of times, and therefore, have I unlocked the next level of some community-driven activity?" (I could definitely monetize that last one, based on how often I repeat outfits in the actual-verse.)
The possibilities are endless, and not just online. As established designers journey into the metaverse and virtual creators dip their toes into the real world, the whole thing becomes a feedback loop. Which means you could see cSapphire's wares strutting down a runway near you someday.

This article appears in the March 2022 issue of ELLE.
This content is created and maintained by a third party, and imported onto this page to help users provide their email addresses. You may be able to find more information about this and similar content at piano.io