2 hr 17 min ago
Ukraine given new warning by US of imminent Russian attack, officials say
From CNN's Matthew Chance, Katie Bo Lillis, Kylie Atwood and Vasco Cotovio
The United States has issued a new warning to the Ukrainian government that the latest intelligence points to a full-scale Russian invasion imminently, according to Ukrainian, US and Western officials familiar with the matter.  
The new warning was conveyed on Tuesday morning local Kyiv time, according to three of the sources.
A senior Ukrainian official said Ukraine has not verified the intelligence and noted that the United States has issued similar warnings before for assaults that ultimately did not materialize.
NATO allies have been given a similar intelligence assessment warning of an imminent attack, according to a NATO military official. The official cautions that "no one knows for sure" what Putin is going to do.
News of the warning comes as the Ukrainian President Volodymyr Zelensky has called for a state of emergency to be imposed across the country starting at midnight tonight in Ukraine.
Of particular concern, the US warned, is the major northeastern city of Kharkiv, according to the senior Ukrainian official and a Western official familiar with the intelligence. The Ukrainian foreign minister said on Tuesday there were no plans to evacuate the city. 
"We do not have such plans," Dmytro Kuleba said during a press conference in Washington alongside US Secretary of State Antony Blinken.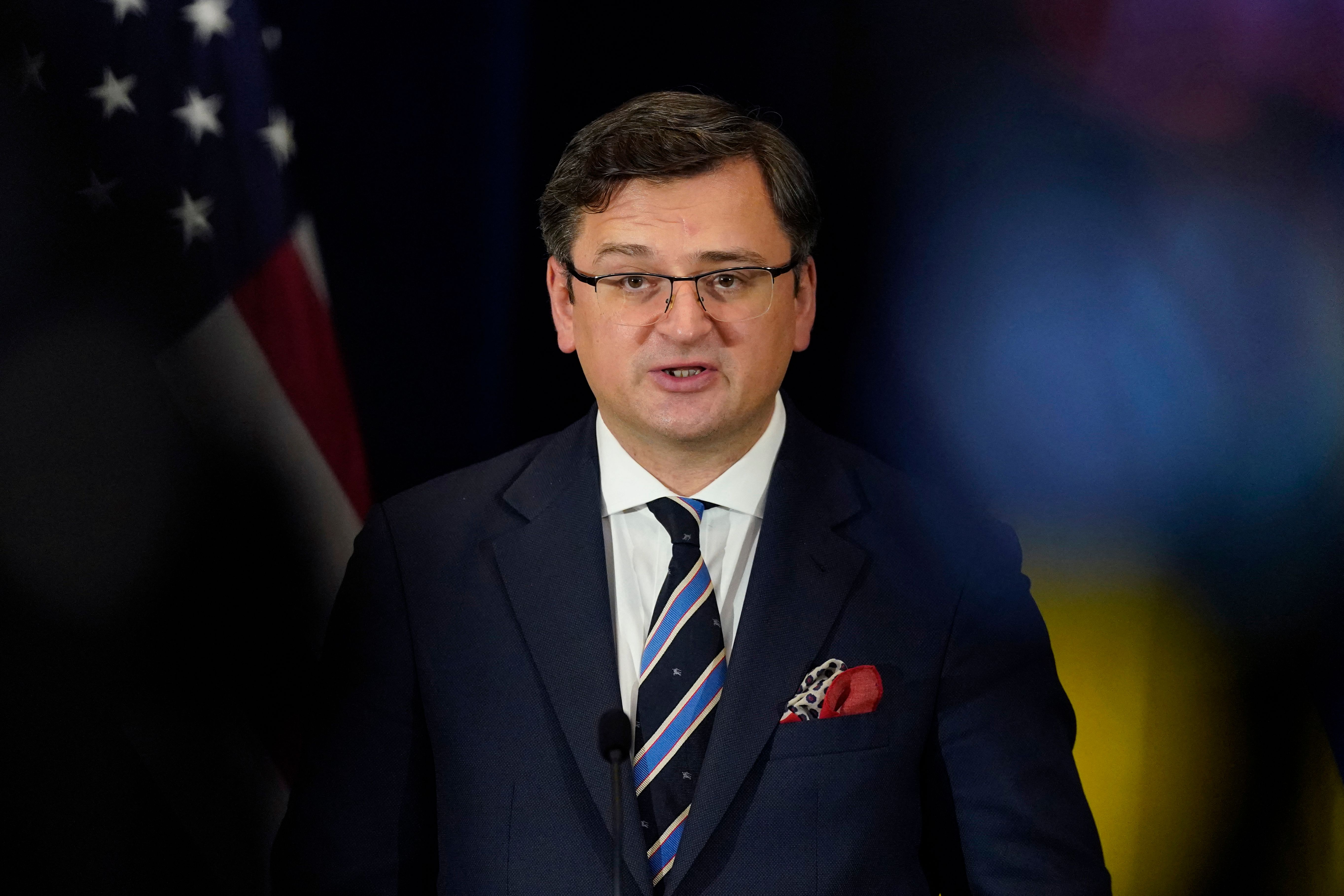 Social media videos geolocated and analyzed by CNN over the past several days show a continuing buildup of armor and support vehicles massing less than 30 kilometers (about 18 miles) across the border in Russia.
US officials have said that they anticipate both a ground invasion and airstrikes should Russia launch an attack.
"Russian missiles and bombs will drop across Ukraine. Communications will be jammed. Cyberattacks will shut down key Ukrainian institutions," Blinken said last week before the UN Security Council, describing how the US believed a Russian attack on Ukraine would unfold.
"After that, Russian tanks and soldiers will advance on key targets that have already been identified and mapped out in detailed plans."
Newsweek first reported this story.
2 hr 31 min ago
There have been nearly 60 violations of ceasefire in eastern Ukraine, defense ministry says
From CNN's Tim Lister in Kyiv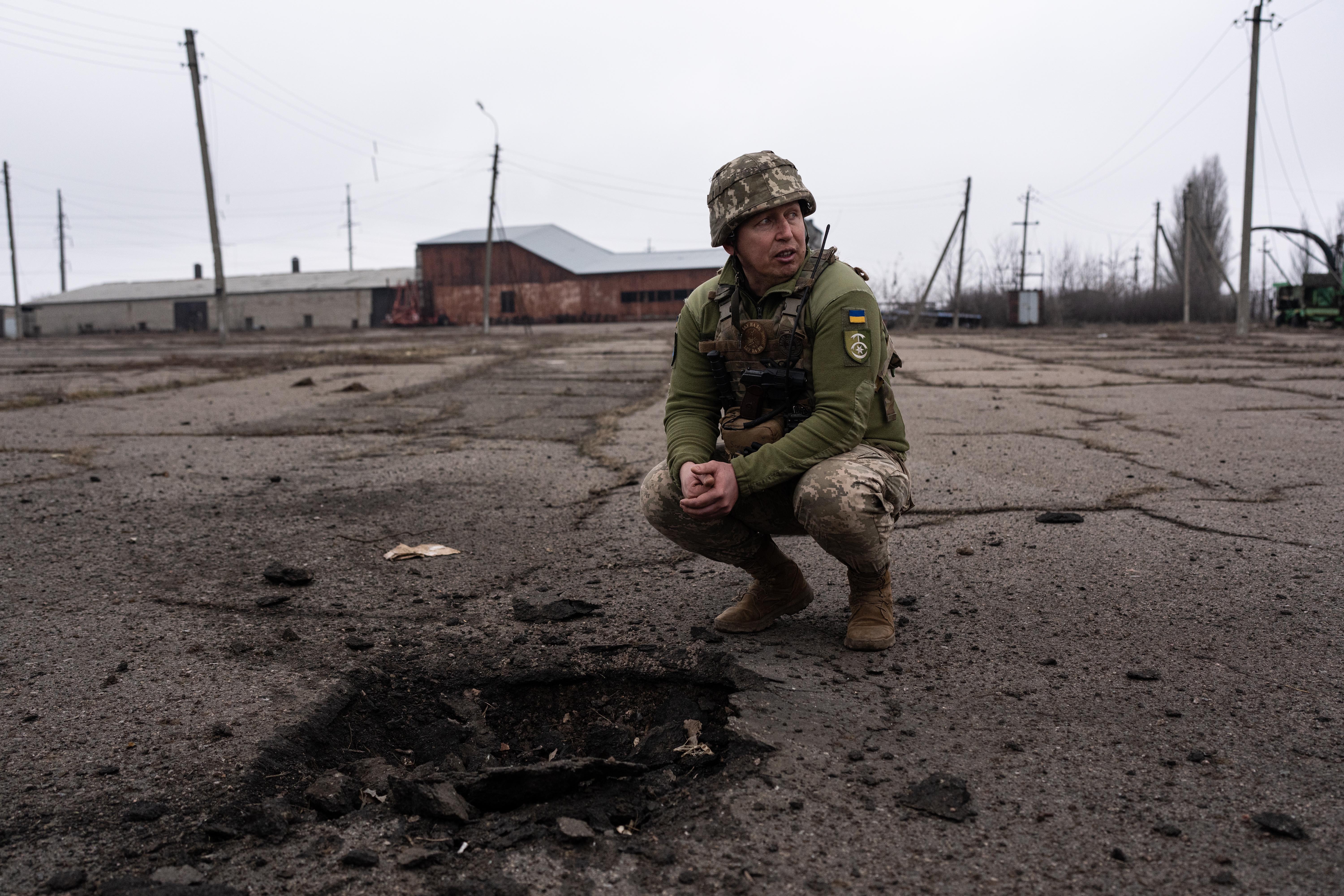 In its latest statement on violations of the ceasefire in eastern Ukraine, the country's defense ministry said that territory under Ukrainian control had been shelled 59 times from the self-declared republics of Luhansk and Donetsk as of 5 p.m. local time on Wednesday.
Of those incidents, 54 involved weapons prohibited under the Minsk agreement, which stipulate that heavy weapons should not be within 50 kilometers of the front lines. 
One Ukrainian service member was killed and another injured, according to the ministry. 
On Tuesday, the ministry recorded 80 violations.
2 hr 37 min ago
Satellite images and video show growing concentrations of Russian armor close to Ukraine's borders
From CNN's Tim Lister, Gianluca Mezzofiore, Katie Polglase and Paul Murphy
There are further indications that Russia continues to concentrate forces along the border with Ukraine, despite assertions from Moscow more than a week ago that many units would be returning to their permanent bases after exercises.
Social media videos geolocated and analyzed by CNN over the past several days show a continuing buildup of armor and support vehicles in two regions: around the Russian city of Belgorod and the town of Valuyki. Both are within 30 kilometers (about 18 miles) of Ukraine's northeastern border, beyond which lies the major city of Kharkiv, Ukraine.
Dozens of stationary tanks and howitzers — along with other armor — could be observed in fields near Belgorod. Other videos showed a long column of tanks and infantry fighting vehicles parked beside a road between Belgorod and the Ukrainian border.
Some of the formations appear to be considerably larger than those observed last week. Some units have been moving at night, according to videos from the Belgorod area. 
In addition, fresh satellite images show that just west of Belgorod, a new field hospital has been constructed at a military site. Southwest of the city, additional troops and equipment are seen in satellite images. 
Russian military ambulances and transports have also been identified in areas near the Ukrainian border, as seen in videos posted to social media that CNN has been able to authenticate and geolocate.
In one of the videos, the ambulances are seen stationed in a wooded area near a park in Shebekino, Russia, less than five miles from the Ukrainian border. 
Ambulances have also been seen on the move as part of convoys in the Kursk areas, within 50 miles of the border.
New satellite images from Maxar Technologies show that in recent days, additional troops, vehicles and logistics infrastructure have also been deployed to Belarus. At an airfield just southwest of Mazyr, in southern Belarus, dozens of tents and vehicles have appeared in recent days. A satellite image from Feb. 4 shows the area was completely vacant. That airfield is just under 40 kilometers (about 24 miles) from Ukraine's northern border.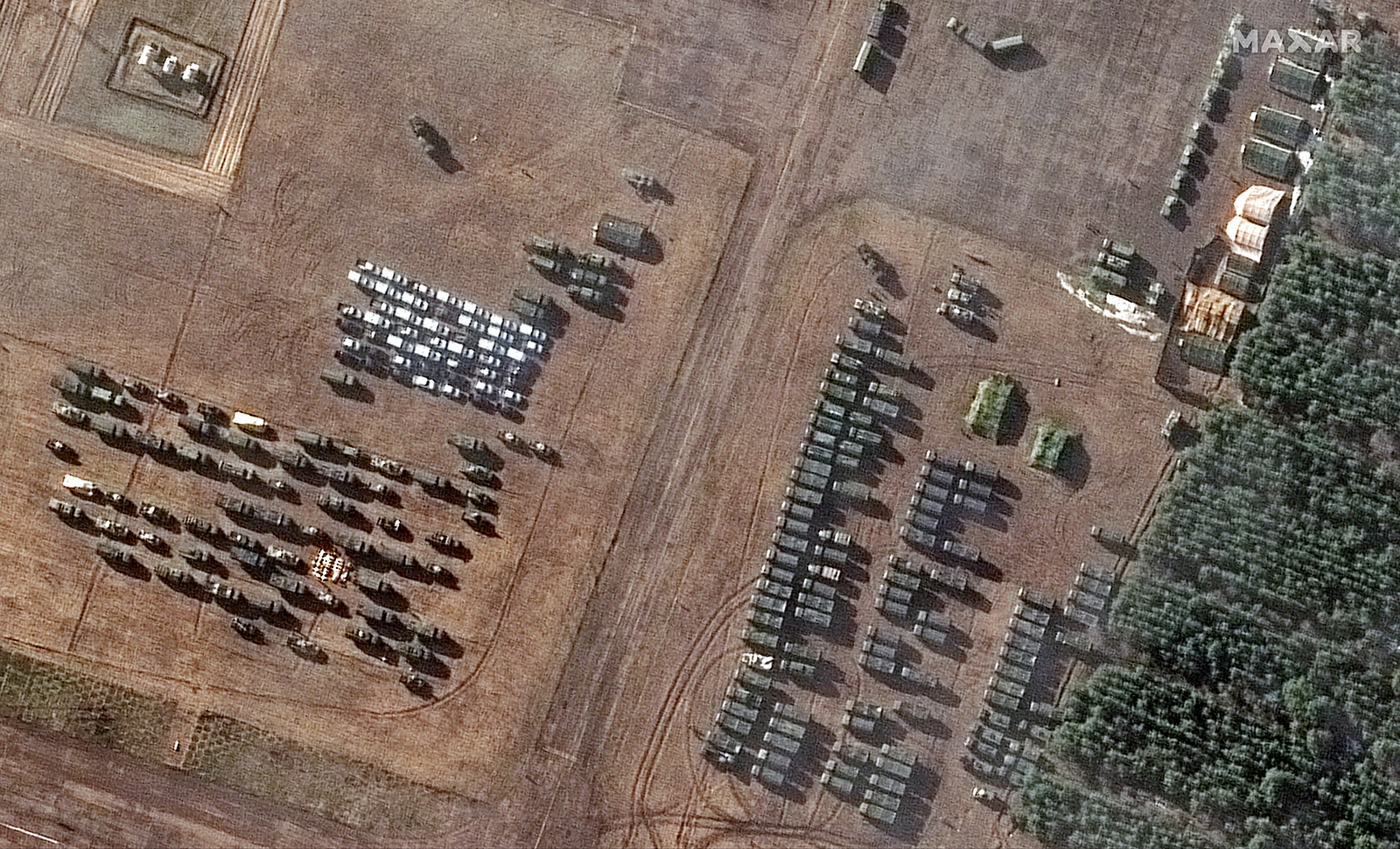 Additionally, social media videos showed a substantial number of attack helicopters in southern Belarus near the city of Gomel. Their current whereabouts are unknown.
Between a week and 10 days ago, there was a flurry of announcements from Moscow, often accompanied by Russian Defense Ministry video that was sometimes contradictory, about units in the vicinity of Ukraine returning to base after exercises. But there have been no further announcements since.
2 hr 47 min ago
European Council chief calls for emergency summit on Ukraine to be held Thursday
From CNN's James Frater in Lviv and Niamh Kennedy in London
European Council President Charles Michel has called an emergency summit on Ukraine to be held on Thursday in Brussels.
In a letter to EU member states viewed by CNN on Wednesday, Michel invited representatives to a "special European Council on Thursday 24 February." The summit is set to be an in-person meeting and is expected to begin at 8 p.m. local time (2 p.m. ET). 
"I would like us to discuss: the latest developments, how we protect the rules-based international order, how we deal with Russia notably holding Russia accountable for its actions, how we will further support Ukraine and its people," Michel told member states. 
Michel condemned the "aggressive actions" taken by Russia, which he stressed violate international law, the territorial integrity and sovereignty of Ukraine and "undermine the European security order."
"It is important that we continue to be united and determined and jointly define our collective approach and actions," Michel said. 
On Wednesday afternoon, the European Council announced that it had "adopted a package of measures" responding to Russia's decision to recognize separatist-held parts of eastern Ukraine.
3 hr 8 min ago
Paris will light up city hall in blue and yellow in support of Ukraine
From CNN's Xiaofei Xu and Anaëlle Jonah in Paris
Paris' city hall will display the colors of the Ukrainian flag on Wednesday night to show solidarity with the country, the mayor's office said in a statement. 
"The city of Paris wishes to show its support for the Ukrainian people and democracy by illuminating the city hall with the colors of Ukraine tonight," the statement read.
The display will happen at 6:45 p.m. local time (12:45 p.m. ET), it said, adding that the German capital of Berlin will also light up the Brandenburg Gate at the same time.
"[This action] marks the necessary solidarity and unity that Europe must show in this conflict, while war threatens our continent," according to the statement.
3 hr 26 min ago
Ukraine's parliament says it is "dealing with a cyberattack" on its website
From CNN's Anastasia Graham-Yooll in London and Tim Lister in Kyiv
Ukraine's parliament is currently "dealing with a cyberattack" on its website, a member of its parliamentary press team confirmed to CNN Wednesday. 
Ukraine's Minister of Digital Transformation Mykhailo Fedorov also said in his Telegram channel Wednesday that another mass distributed denial of service attack began at about 4 p.m. local time.
According to Fedorov, the DDoS attack was reported by a number of banks, and there have been problems with access to government websites. This is due to the switching of traffic to another provider to minimize the damage from the attack. 
Internet monitor NetBlocks tweeted that Ukraine's Ministry of Foreign Affairs, Ministry of Defense, Ministry of Internal Affairs, Security Service and Cabinet office websites have been "impacted by network disruptions."
"The incident appears consistent with recent DDoS attacks," NetBlocks added. 
More background: On Feb. 16, a high-volume cyberattack that temporarily blocked access to the websites of Ukrainian defense agencies and banks was "the largest [such attack] in the history of Ukraine," according to a government minister.
3 hr 9 min ago
Here's a look at the area in eastern Ukraine where the Latvian PM says Russia is moving troops
Russian troops have moved into the eastern region of Ukraine that Russia has now recognized as "independent," according to the Prime Minister of NATO member Latvia and sources familiar with the latest US intelligence assessments.
Read more about why the Donbas region is at the heart of the crisis.
Take a look at this map of the area: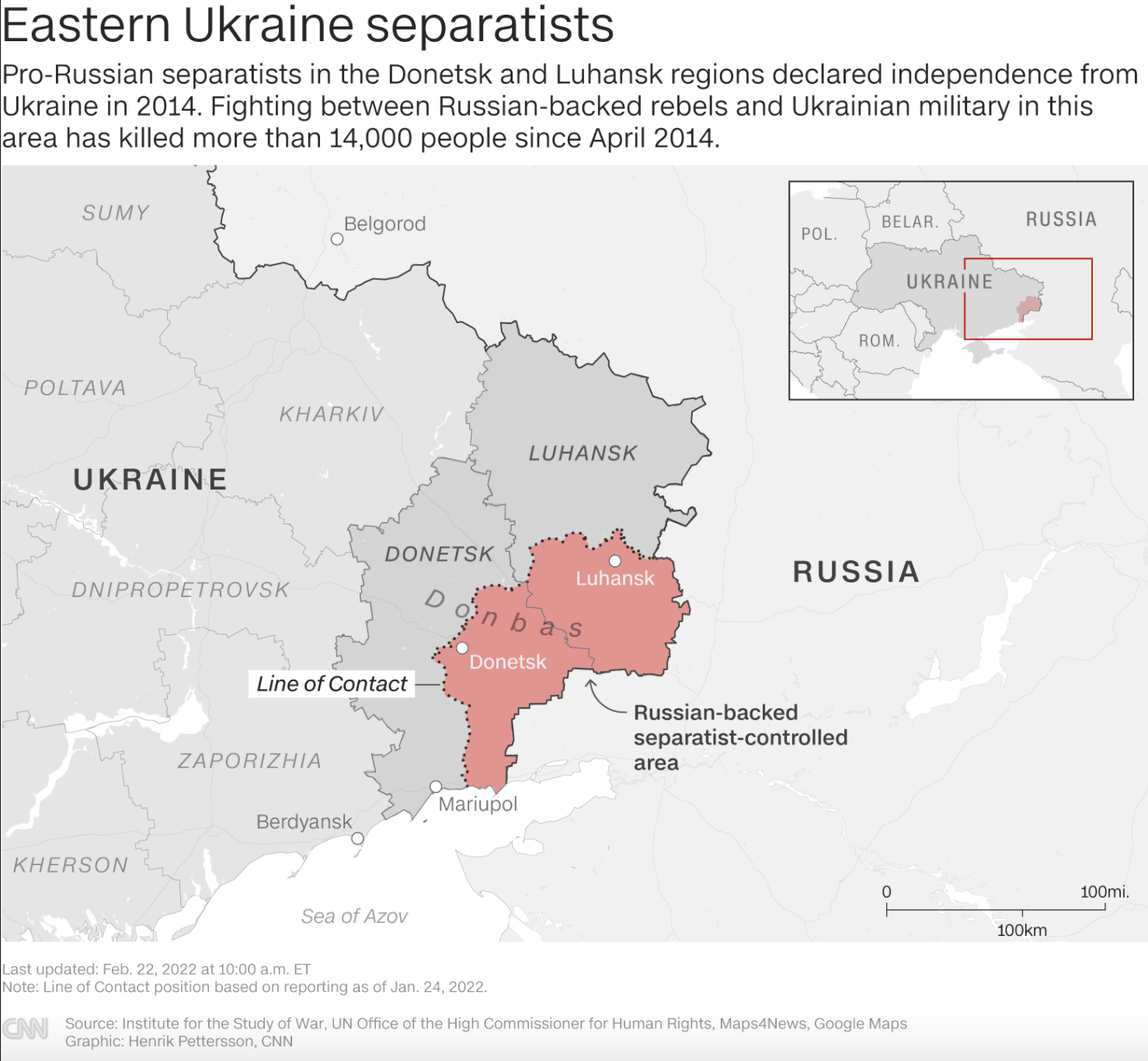 3 hr 25 min ago
Russian troops moving some forces and tanks into eastern Ukraine, Latvian prime minister says
From CNN's Katie Bo Lillis and Jim Sciutto
Russian troops have moved into the eastern region of Ukraine that Russia has now recognized as "independent," according the prime minister of NATO member Latvia and sources familiar with US intelligence. 
"According to the information at my disposal, Putin is moving additional forces and tanks into the occupied Donbas territories," Latvian Prime Minister Arturs Krišjānis Kariņš told CNN's Jim Sciutto on Wednesday. "By any definition that's a crossing of a sovereign territory into a neighboring country."
Pressed specifically on whether he was referring to the entry of additional Russian troops since Moscow recognized the two separatist regions earlier this week, Kariņš replied: "Yes, according to the information at my disposal, this is exactly what we're seeing."
Two other sources familiar with US intelligence confirmed to CNN that additional Russian troops have in fact crossed the border into the Donbas region since Russian President Vladimir Putin recognized the two regions and issued an order deploying "peacekeepers" into the Donbas on Tuesday.
Russia has deployed one to two so-called battalion tactical groups, Russia's main combat formation, each of which comprise an average of about 800 troops, according to a senior US official familiar with the latest intelligence.
CNN has not independently verified the presence of additional Russian troops in the Donbas. 
US President Joe Biden on Tuesday described events now underway in Ukraine as "the beginning of a Russian invasion," but senior administration officials have since declined to confirm whether additional Russian troops had entered into the Donbas — where unmarked Russian forces have propping up separatist fighters since 2014. 
3 hr 35 min ago
Putin expresses "disappointment" with US and NATO reaction during phone call with Turkish president
From Isil Sariyuce, Celine Alkhaldi and Anna Chernova
On a phone call with Turkey's President Recep Tayyip Erdogan on Wednesday, Russian President Vladimir Putin expressed his "disappointment" in the reaction by the United States and NATO.
"Putin expressed his disappointment with the reaction of the United States and NATO, which amounted to an attempt to ignore legitimate Russian concerns and demands," a statement by the Russian Presidency said.
Erdogan reiterated Turkey's stance on rejecting the steps taken by Putin against Ukraine's sovereignty and territorial integrity, the Turkish presidency said.
Putin discussed "the theme of the development of long-term legal security guarantees for the Russian Federation" and "emphasized the objective necessity of the decision taken in the face of the aggression of the Ukrainian authorities in Donbas and their categorical refusal to comply with the Minsk agreements," according to the Russian Presidency readout of the phone call.
The Turkish presidential statement said that Erdogan told Putin that "a military conflict will not benefit anyone" and that it will only make things more complex, adding that "it is important to reach a conclusion on the basis of the Minsk Agreements."
On Tuesday, Erdogan denounced Putin's decision to recognize breakaway eastern Ukrainian territories, calling it "unacceptable."