1 min ago
Biden administration believes Russia may use UNSC meeting as part of a pretext for a potential invasion
From CNN's Kylie Atwood and Michael Conte
The Biden administration believes that Russia could try to use the meeting at the UN Security Council (UNSC) today "as part of an attempt to establish a pretext for a potential invasion," said a senior administration official, adding that Russia circulated a document with false claims last night to the countries in the UNSC. 
"Earlier this week, President Putin without any factual basis accused Ukraine of committing genocide in eastern Ukraine. And last night, the Russian Mission to the United Nations circulated to the members of the Security Council, a document it calls 'a joint project of the Investigative Committee of the Russian Federation and RT news channel,' which alleges that war crimes have been committed in the course of the armed conflict in southeastern Ukraine. Each of these allegations are categorically false," the official said. "I expect that you will hear Russia repeat these claims in today's meeting, and we should expect more false reports from Russian state media over the coming days." 
Secretary of State Antony Blinken decided overnight to attend the meeting, after a series of meetings between the White House, the State Department and the National Security Council, the US Ambassador to the UN said Thursday morning. 
When asked about the reports of shelling in the Donbas overnight the official said they were "hesitant to speak to any particular new fact that has come in in just the last few hours" but pointed to the wide-ranging false comments from Russia in recent days.
The official also said that: "What we have been saying now for a number of weeks is that we have indications that Russia could launch a false pretext at any moment to help justify an invasion of Ukraine. And that pretext could take a number of different forms. It could be a provocation in the Donbas. It could be a claim about NATO activity. It could be a claim of an incursion into Russian territory. And we've already seen over the last few days a number of false claims by Russia, including as I mentioned the reports of an unmarked grave of civilians allegedly killed by the Ukrainian armed forces. We've seen statements that the US and Ukraine are developing biological or chemical weapons, and that the west is funneling, you know, guerilla fighters in to kill locals in the Donbas. Each of these allegations is categorically false."
There has been a substantial uptick in claims of violations of ceasefire — by both sides.
Luhansk and Donetsk are working overtime to accuse Ukrainians of all sorts of nefarious plans. Among the allegations: Heavy weapons being brought forward, anti-tank missiles being used and Ukrainian President Volodymyr Zelensky directly ordering offensive action. No evidence, however, has advanced so far, in terms of civilian casualties or heavy duty attacks.
25 min ago
Russia expels deputy chief of mission at US embassy in Moscow, which the US calls "an escalatory step"
From CNN's Kylie Atwood and Jennifer Hansler
Russia expelled the second-most senior diplomat at the US embassy in Moscow without any justification in what the Biden administration views as an "escalatory" move, the State Department said on Thursday. 
"We can confirm that Russia expelled US Deputy Chief of Mission (DCM) to Russia Bart Gorman. DCM Gorman was the second-most senior official at U.S. Embassy Moscow after the Ambassador and a key member of the Embassy's senior leadership team," a State Department spokesperson said. 
The US is considering its response.
"Russia's action against our DCM was unprovoked and we consider this an escalatory step and are considering our response," the spokesperson said. 
This diplomatic issue comes to the fore amid growing concerns about a Russian invasion of Ukraine.
More background: Russia has continually forced the US to reduce the size of its diplomatic footprint in the country in recent years. Gorman's tour in Russia had not ended, he had a valid visa, and he had been in Russia less than three years, the spokesperson added. 
"We call on Russia to end its baseless expulsions of U.S. diplomats and staff and to work productively to rebuild our missions. Now more than ever, it is critical that our countries have the necessary diplomatic personnel in place to facilitate communication between our governments," the spokesperson said. 
21 min ago
After delivery of formal response to US, Russia says proposals were "ignored" and "will be forced to respond"
From CNN's Uliana Pavlova in Moscow
The Russian Ministry of Foreign Affairs issued a statement following the delivery of Russia's formal response to a written document from the US over Russia's security demands.
The statement said, "On February 17 of this year, US Ambassador J. Sullivan, invited to @MID_Russia [the Russian MFA], was given a reaction to the previously received American response on the Russian draft treaty between Russia and the United States on security guarantees." 
The statement was posted on the ministry's Telegram account:
"❗ We state that the American side did not give a constructive response to the basic elements of the draft treaty with the United States prepared by the Russian side on security guarantees.
The package nature of Russian proposals was ignored, from which "convenient" topics were deliberately chosen, which, in turn, were "twisted" in the direction of creating advantages for the United States and its allies.
The growing military activity of the United States and NATO directly at Russian borders is alarming.
☝️ In the absence of the readiness of the American side to agree on firm, legally binding guarantees to ensure our security from the United States and its allies, Russia will be forced to respond, including through the implementation of military-technical measures."
32 min ago
Biden: "My sense" is that Russia will invade Ukraine "within the next several days"
From CNN's Betsy Klein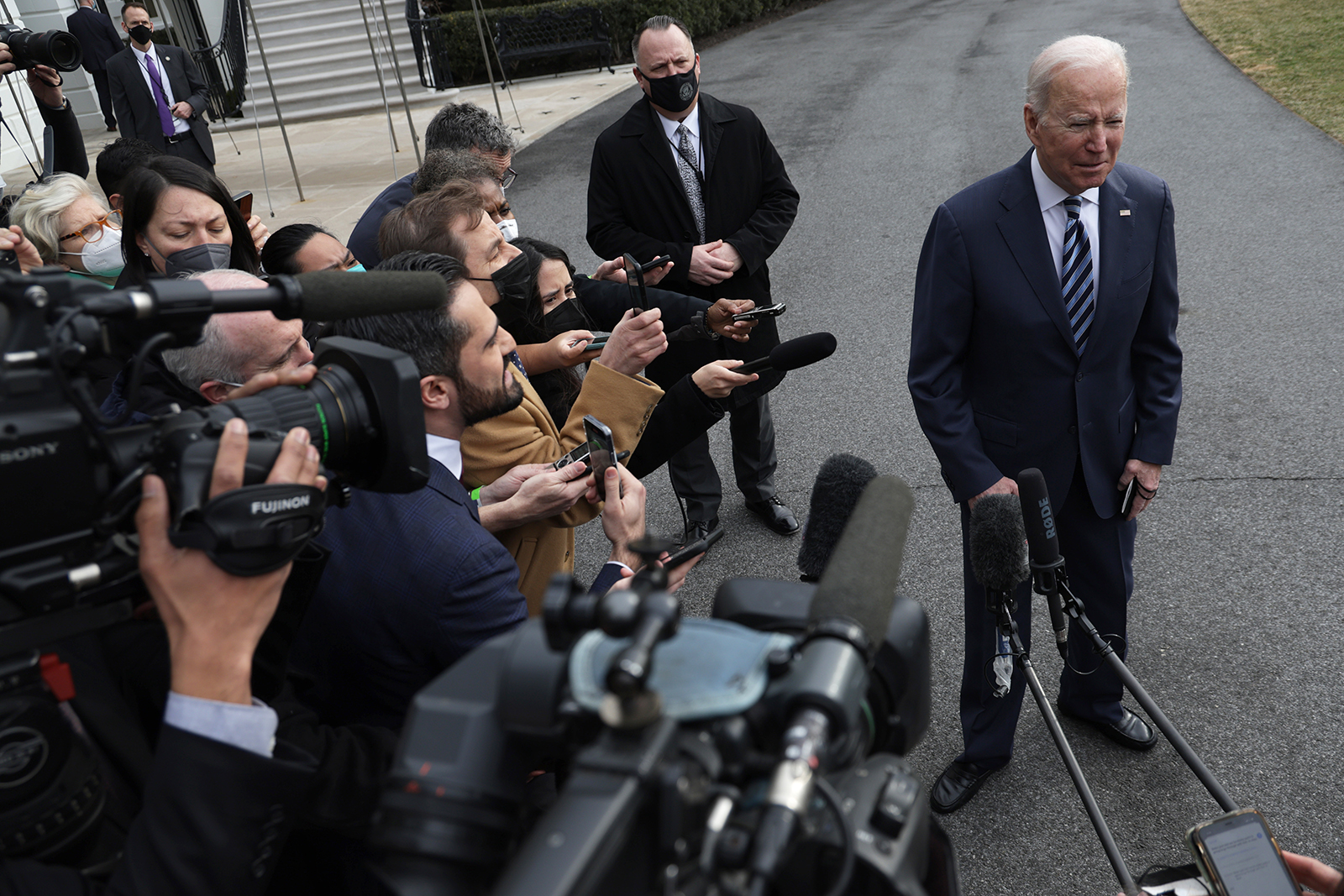 As he departed the White House, President Biden told reporters this morning that the US has "reason to believe" Russia is "engaged in a false flag operation." 
"Every indication that we have is that they are prepared to go into Ukraine, attack Ukraine," Biden said, adding, "My sense is it will happen within the next several days."
He said the Russian responses have been sent but he hasn't read them yet. 
He noted Secretary of State Antony Blinken will go to the United Nations today and will lay out a diplomatic path, reiterating that "there is a path."
Biden added he has "no plans to call Putin."
He spoke for under two minutes before boarding Marine One to travel to Ohio.
56 min ago
EU ready to present "tough" sanctions package on Russia "as soon as needed," foreign affairs chief says
From CNN's Nada Bashir
The European Union is prepared to present a "full package of sanctions" on Russia "as soon as needed," the EU's foreign affairs chief said Thursday. 
"We have already prepared a full package of sanctions. We have been working on that, and I have been in touch with the US and with all likeminded countries, with the technical support of the [European] Commission," European Union High Representative for Foreign Affairs and Security Policy Josep Borrell said. 
"We have a very tough package prepared," he added.  
Speaking ahead of an informal meeting of European Council members to discuss the Russia-Ukraine crisis, Borrell reiterated that the European Union "still believes in the diplomatic process" and will concentrate efforts on diplomacy, but cautioned that the EU will "act decisively" if needed. 
"If there is aggression, I will immediately call the Foreign Affairs Council to propose the package of sanctions, and I'm sure that — even though unanimity is required — the council will approve them," Borrell said.  
"When the moment comes, we will act decisively, when the level of intensity of the aggression requires," he added. 
49 min ago
Belarusian president tells CNN that "Western intelligence is useless" and to "calm down" about possible attack
From CNN's Fred Pleitgen in Asipovichi, Belarus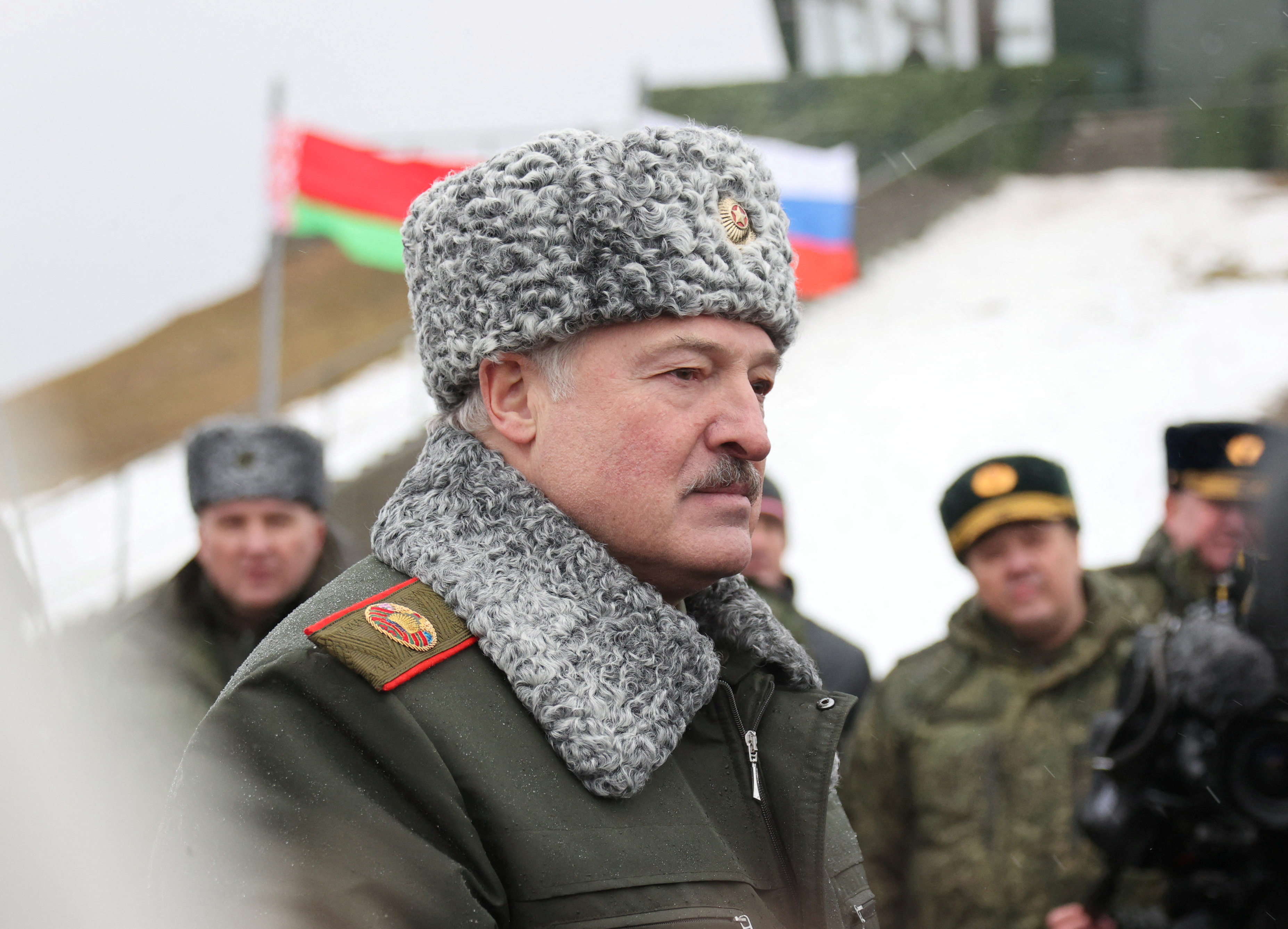 During Russian-Belarusian joint military drills, Belarusian President Alexander Lukashenko told CNN's Fred Pleitgen on Thursday that Western intelligence is "useless," while speaking about the possible threat of an attack from Belarusian territory toward Ukraine.
"You have to admit — if you have any shame at all — that you missed this period under the eyes of the whole global community. You accused Belarus and Russia that we were to invade Ukraine yesterday. We didn't. So your intelligence and billions of dollars that you're spending on it are useless. At least admit this!" Lukashenko said.
 Lukashenko reaffirmed his support for Russia's position, saying the two countries have "practically formed a united army."
"We have an agreement between Belarus and Russia, we have practically formed here a united Russia-Belarus group, a united army that is, you might say. And this is our official position. Please take it into account as we are taking into account your position," Lukashenko said.
The Belarusian president went on asking about legitimacy of Western military experts in Ukraine.
"And on a broader subject — what are you doing here, thousands of kilometers [away]?" Lukashenko said.
"Your [military] experts in Ukraine? Your troops close to Poland, in Lithuania, Latvia, Estonia? What do you have here? Thousands of kilometers away! So you shouldn't hold it up against us. There no troops of ours in Canada or Mexico, such as infantrymen, for example. So calm down," he said.
Some background: Western officials have expressed skepticism about Russian announcements that some of the troops assembled close to the border with Ukraine are returning to their bases. New satellite images from Maxar Technologies on Wednesday showed that in several regions close to Ukraine, Russian forces are consolidating and adding to their positions. Several units that had been gathered in camps in southern Belarus have been dispersed.
The satellite images also show new road construction and a tactical bridge being built across a key river in Belarus less than four miles from the Ukrainian border, amid what sources say is an ongoing buildup of Russian military forces encircling three sides of Ukraine. 
Western intelligence and military officials are closely tracking the construction as part of the support infrastructure Russia is putting in place in advance of a potential invasion, three sources familiar with the matter told CNN. It's unclear whether Russian forces or Belarus is constructing the bridge. Belarus is Russia's closest international ally in the standoff and is currently hosting Russian troops and equipment as part of what Russia insists are "exercises."
CNN's Katie Bo Lills, Natasha Bertrand, Tim Lister and Paul Murphy contributed reporting to this post.
1 hr 30 min ago
US has received a response from Russia after submitting proposals 3 weeks ago, State Department official says 
From CNN's Kylie Atwood
The United States has received a response from Russia today after the US gave a written document to Russia three weeks ago, a senior State Department official said on Thursday.
"We can confirm that we have received a response from the Russian Federation. It was delivered to Ambassador Sullivan in Moscow today," a senior State Department official said.
Russian Foreign Minister Sergey Lavrov said earlier today that Moscow would send its response to the US on security guarantees today, following a meeting with his Italian counterpart. Lavrov said Moscow will also make the letter public.
The written document that the US gave to Russia had set "out a serious diplomatic path forward should Russia choose it," US Secretary of State Tony Blinken said in January. 
1 hr 25 min ago
Russian foreign minister demands Russia's core security issues be addressed first in negotiations
From CNN's Sarah Dean in Moscow and Anastasia Graham-Yooll in London
Russian Foreign Minister Sergey Lavrov has demanded Russia's core security issues be addressed first in any negotiations with the United States and NATO before other security issues can be resolved.
In a news conference following a meeting with his Italian counterpart Luigi Di Maio in Moscow, Lavrov said that, for example, any agreement to limit and halt the deployment of short- and long-range missiles based in Europe or lower military risks associated with military exercises won't be resolved "until we agree on our key positions."
"That is NATO's non-expansion to the East, non-placement of the strike weapons, and respect to the military and political configuration at the time of signing of founding act between Russia and NATO," Lavrov listed as the core demands.
His comments come after Russian President Vladimir Putin, in a news conference with German Chancellor Olaf Scholz on Tuesday, reiterated that the US and NATO had not satisfied Russia's security concerns.
"The responses we received from the United States and NATO members to security guarantees proposals, in our opinion, do not meet the three basic Russian requirements mentioned above," Putin said. "The provided responses contain a number of proposals that we are not just open to discussing, but in fact we have proposed them to our partners in previous years: proposals on European security issues, on certain weaponry issues, i.e. intermediate and short-range missiles, and on military transparency."
"We are ready to continue this joint work further. We are also ready to follow the negotiation track but all issues must be considered as a whole, without being separated from the main Russian proposals, the implementation of which is an unconditional priority for us," Putin said.
Lavrov went a step further on Thursday, saying: "Our priority is not seeing isolated issues plucked from the package of measures and then claim we've resolved all issues."
"We noted in the second part of the American response to our initiative there is willingness to discuss and find agreement on the issues we've been proposing our NATO colleagues as urgent for the last several years," Lavrov said.
"They have been avoiding these issues in many ways. I mean an agreement to limit and halt the deployment of short- and long-range missiles land-based in Europe, refraining from placement of other offensive weapons in areas where they can threaten security, reach concrete agreements when it comes to trust measures, measures to lowering military risks associated with military exercises of both parties, including air force and navy traffic," he said.
Earlier this week, US Secretary of State Antony Blinken "reiterated the US commitment to continue to pursue a diplomatic solution to the crisis Moscow has precipitated."
1 hr 49 min ago
US defense secretary: Intel community investigating cyberattacks on Ukraine, but it's out of Putin "playbook"
From CNN's Ellie Kaufman
Secretary of Defense Lloyd Austin said the US intelligence community is still investigating who was behind a series of denial of service attacks on Ukraine's government and banks earlier this week, but the move is out of the Russian playbook.
"In terms of confirming whether or not this was Russia behind this, the intelligence community continues to assess what happened there," Austin said during a press conference at NATO headquarters in Brussels on Thursday. "But I would just … point out to you, this is a play taken out of [Russian President Vladimir Putin's] playbook."
Some background: A high-volume cyberattack that temporarily blocked access to the websites of Ukrainian defense agencies and banks on Tuesday was "the largest [such attack] in the history of Ukraine," according to a government minister.
Cyberattacks like the one on Tuesday are part of a series of moves the US expected to see before a Russian military invasion, including "increasing rhetoric in the information space," Austin said. He noted the US is "beginning to see more and more of that."