1 min ago
There has been another strike in Lviv, according to mayor
From CNN's Chandler Thornton
Lviv Mayor Andriy Sadovyi said another strike has hit the western Ukrainian city.
"Another rocket strike in Lviv," Sadovyi said in a tweet, adding "updating the information."
10 min ago
Biden briefed on strike in Lviv as he is set to give speech in Poland
From CNN's Kaitlan Collins and Phil Mattingly
US President Joe Biden was briefed on the strike on Lviv before leaving his hotel to deliver a speech in Poland, a White House official says. 
The White House has called the speech a "major address."
There are also Ukrainian refugees in the crowd assembled in front of the stage for Biden's remarks, per a White House official.
25 min ago
On the ground: Fire and thick smoke pour up from site of blast at fuel storage facility in Lviv
From CNN's Chandler Thornton and Adrienne Vogt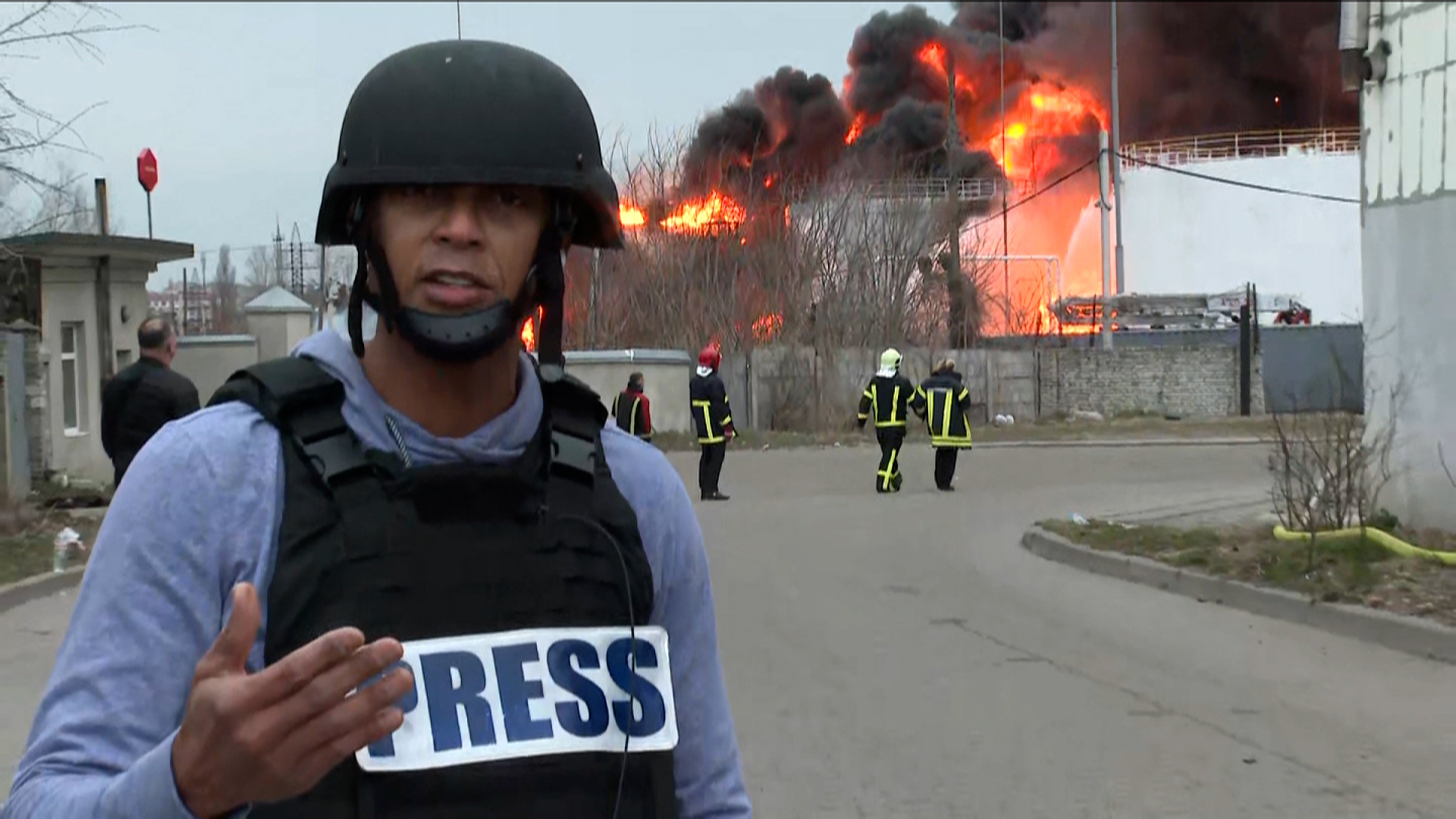 CNN's Don Lemon is at the site of an industrial facility used for fuel storage in Lviv, Ukraine, where a blazing fire and thick black smoke are rising.
"According to the mayor, he believes it is a Russian military strike on this facility," Lemon reported.
Lviv Mayor Andriy Sadovyi said that "habitable infrastructure was not injured," in a tweet confirming the burning of the facility. Firefighters and first responders are on the scene. Residents of a nearby neighborhood are also outside waiting for more information.
Sadoyvi advised residents to continue staying in shelters until the air alarm stops.
Lemon and his team were pushed back because there is concern about another explosion, he said.
The situation is fluid.
1 hr 21 min ago
Mayor of Ukrainian city freed after Russian detention, according to political party
From CNN staff and Olga Voitovych
The mayor of the northern Ukrainian city of Slavutych was released by Russian forces Saturday after being detained, the Ukrainian political party Sluha Narodu said in a statement. 
"The abducted mayor of Slavutych is already at large," a statement said. "Rallies [against the Russians] continue in the city."
Russian troops on Saturday entered the city, which was built for workers at the Chernobyl nuclear power plant, sparking protests by residents. 
In a video posted on Facebook, Mayor Yuri Fomichev was shown addressing residents on Saturday and telling them that they would have to "communicate with the occupiers" after Russian troops entered the town. Fomichev told residents the Russians would search for weapons but would leave the center of the city.
"They will check whether there is a weapon or whether someone is hiding with it. They will go to the police, they will go to the military recruitment office. It's clear. They will do a spin [through town] here until noon. After lunch, they have to leave the city. There will be one checkpoint, and they will not be in the city. We are governing the city ourselves," he said.  
Fomichev added: "If someone needs to leave the city, we will agree on the procedure. We realize that now we must communicate with the occupiers. There is no other option. We do not have … machine guns, grenade launchers, missiles, tanks. … We do have hands, brains and hearts. This is the main thing we have. And love for Ukraine, for Slavutych!"
20 min ago
Russian forces carried out strike near the western Ukrainian city of Lviv, according to regional official
From CNN's Julia Kesaieva and CNN staff in Lviv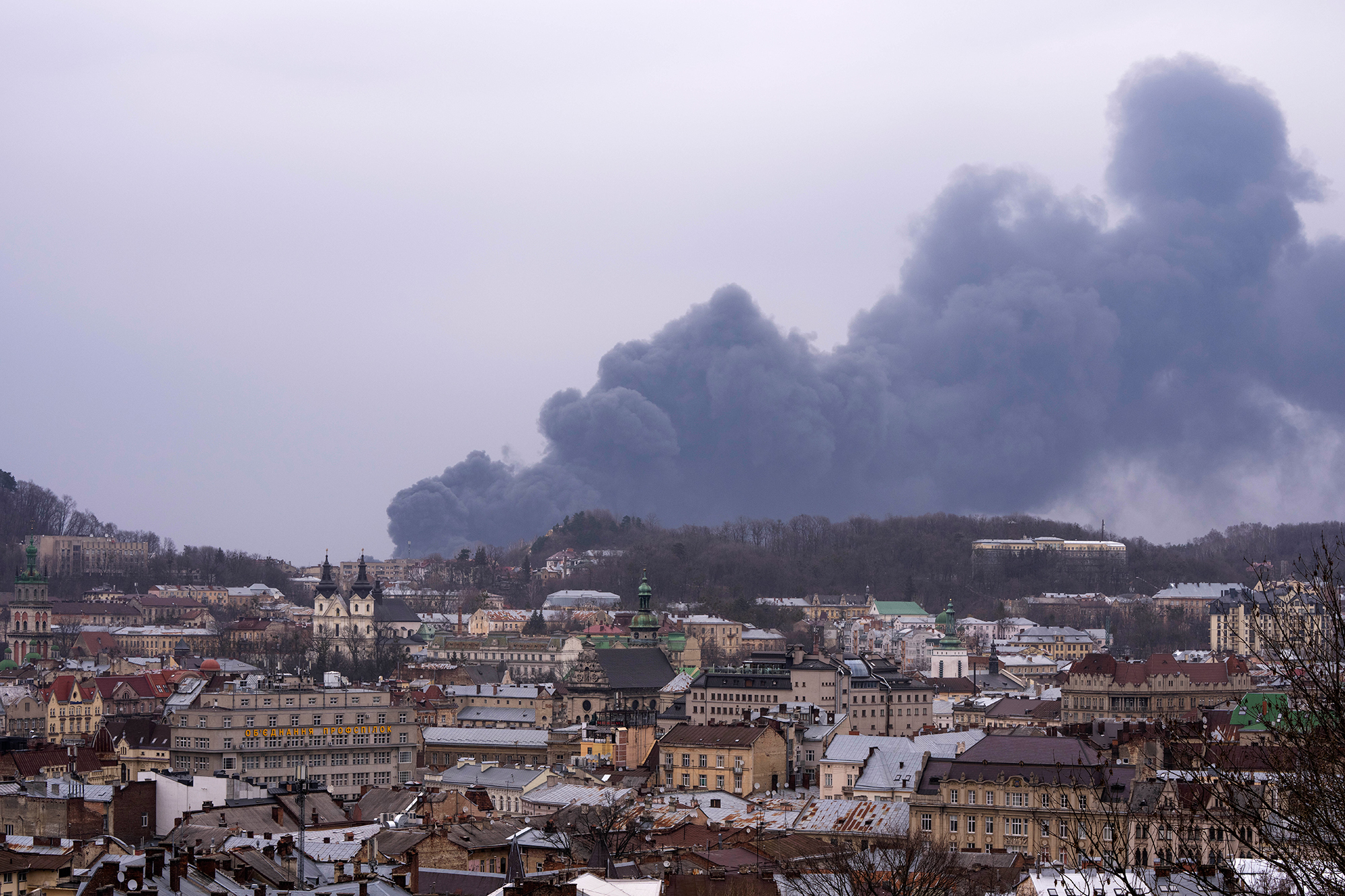 Ukrainian officials said Russian forces struck near the western Ukrainian city of Lviv, without providing extensive details. 
Maksym Kozytsky, head of Lviv regional military administration, said: "There were three powerful explosions near Lviv from the Velyki Kryvchytsi side, now there is an air alarm, so keep calm and stay in shelter."
"The Russian army struck at Lviv," Lviv Mayor Andriy Sadovyi said on Twitter. "We are waiting for information from the Military Administration. Stay in the shelters." 
The blasts were audible on the street in center of Lviv. 
Sadovyi warned in a followup tweet that there could be more strikes after explosions were heard in the city.
"It is possible that shelling will be repeated. Stay in the shelter!" the mayor tweeted.
At least two missiles struck Lviv Saturday, and there are reports of at least five people injured, according to Kozytsky.
He added there are still threats for more missile strikes, according to a post on his official Facebook account.
"Information about what was involved in a residential building or other infrastructure objects was not confirmed," Kozytsky said.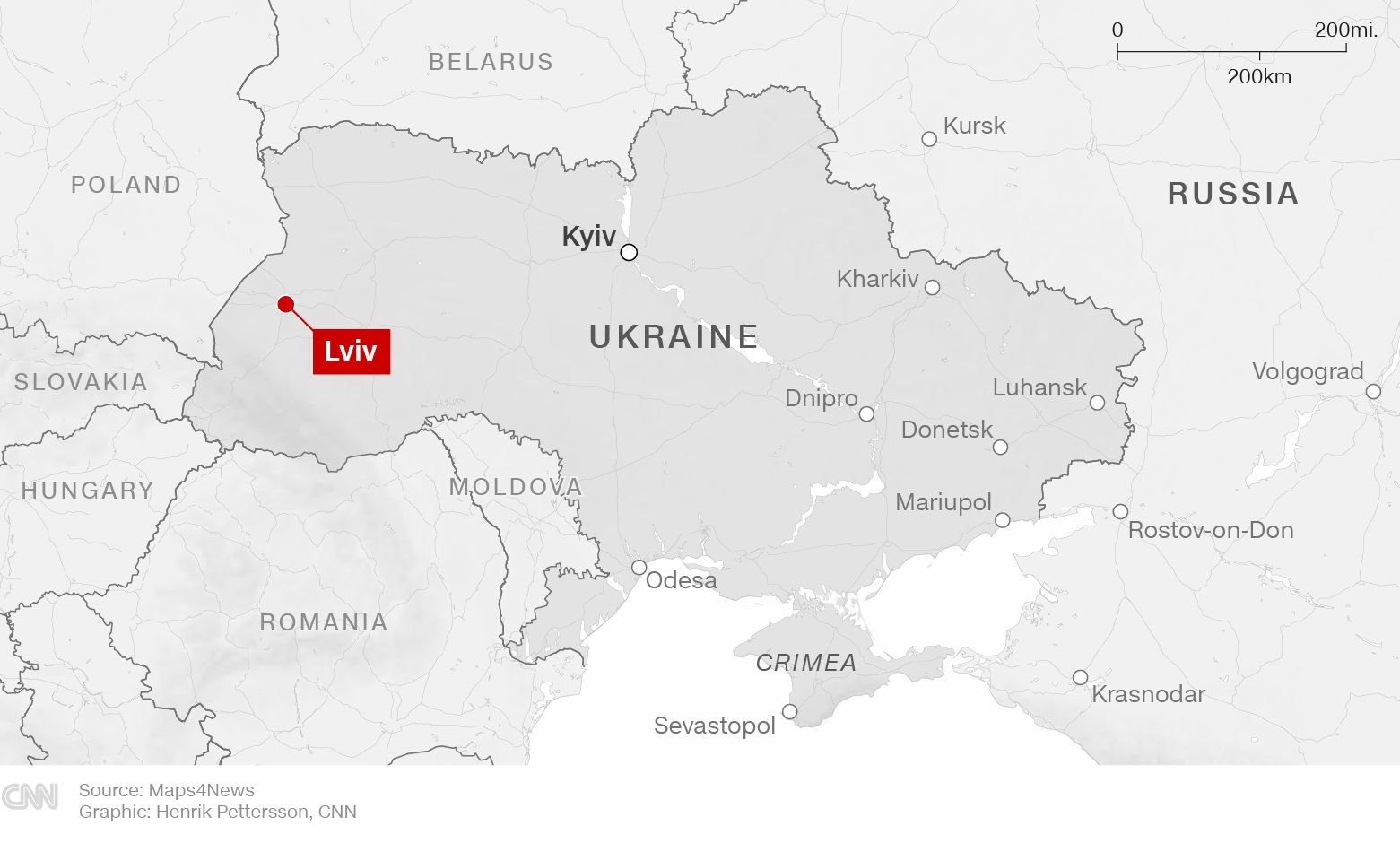 1 hr 28 min ago
London's mayor "embarrassed" by UK's response in helping Ukrainian refugees
From CNN's Peirre Meilhan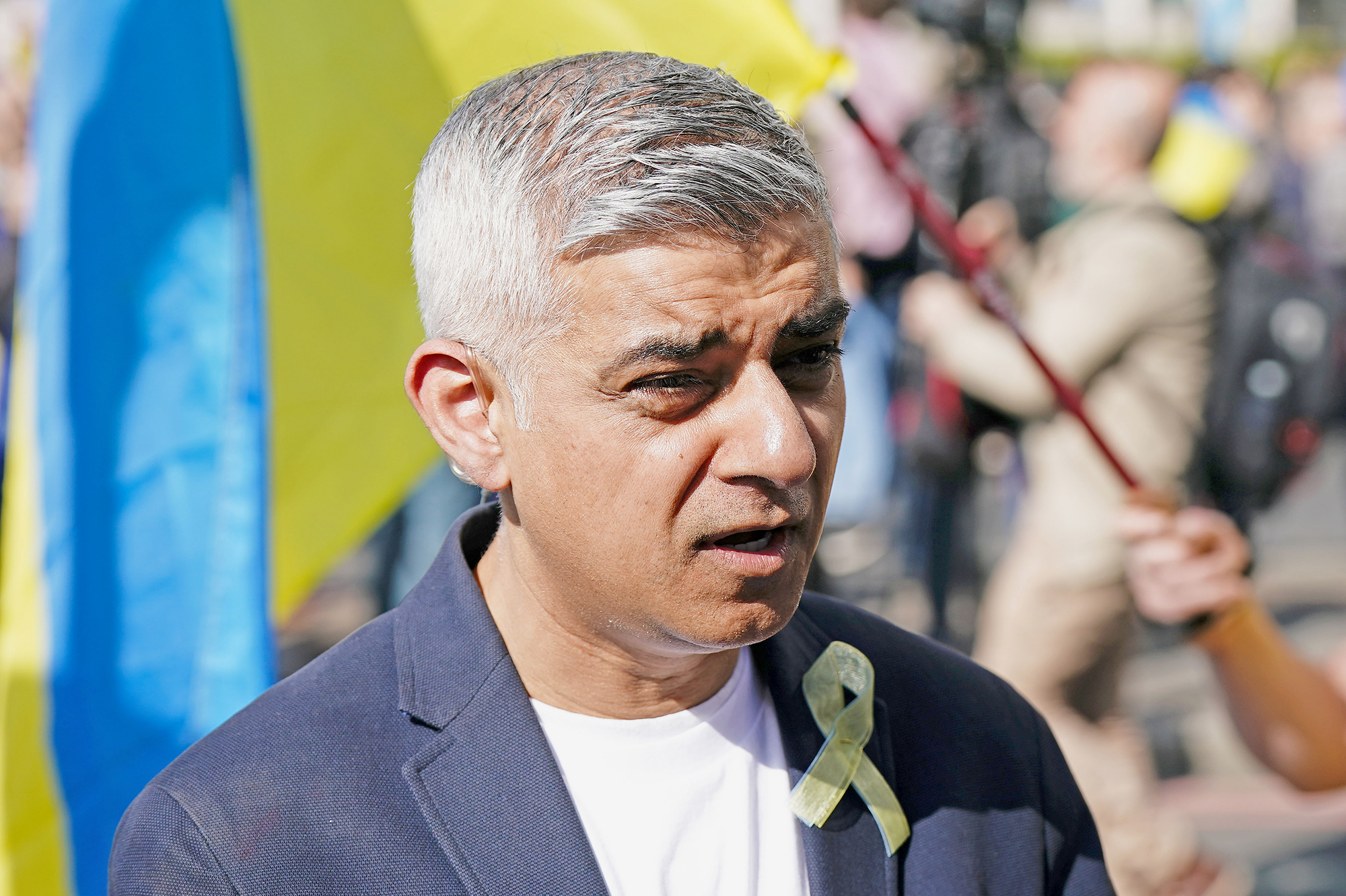 London Mayor Sadiq Khan said the British government has "got to make it far easier" for Ukrainian refugees to come to the United Kingdom.
Khan, in an interview with talk radio station Leading Britain's Conversation, added that he is "embarrassed" by the UK's response so far compared to other countries in Europe on the issue of refugees.
"There's a disconnect between the actions of Brits and the actions of Londoners and the actions of our government and those in Parliament, as you have seen people across the country, including in London, opening their homes to Ukrainian refugees. You have seen the massive generosity in relation to donations," Khan said, as he contrasted this with how "it is really hard though for Ukrainians to come here."
Earlier in the day, Khan attended the London Stands With Ukraine march in solidarity with Ukrainians and to protest Russia's invasion of the country.
More than 3.7 million refugees have fled Ukraine since the beginning of the invasion, the United Nations' Refugee Agency said Friday.
2 hr 16 min ago
US is considering sanctioning Russian companies that make supplies for the military, sources say
From CNN's Kaitlan Collins
The United States is considering sanctioning Russian companies that make supplies for the Russian military, sources familiar with the option tell CNN, though an official decision hasn't been made. 
After meeting with top US officials in Warsaw on Saturday, Ukrainian Foreign Minister Dmytro Kuleba said they believed officials in US President Joe Biden's administration were "keen to move on with further sanctions."
8 min ago
Biden says Putin is "a butcher" after speaking with refugees
From CNN's Kyle Blaine
US President Joe Biden called Russian President Vladimir Putin a "butcher" after visiting with Ukrainian refugees in Warsaw, Poland, on Saturday.
Asked by reporters traveling with the President what seeing the refugees made him think as he deals with Putin every day, Biden responded, "he's a butcher."
During the brief question-and-answer session at Stadion Narodowy, Biden recounted how he had been to places like this in his life, but said he is always surprised by "the depth and strength of the human spirit." 
"It's incredible, it's incredible. See all those little children. Just want to hug, just want to say thanks. I mean, it's, just makes you so damn proud," he said.
He added: "Each one of those children said something to the effect, 'Say a prayer for my dad or my grandfather or my brother who's back there fighting.' And I remember what it's like when you have someone in a war zone. Every morning you get up and you wonder. You just wonder. And you pray you don't get that phone call."
Kremlin's reaction: The Kremlin responded to Biden's comments in Warsaw, saying his remarks "narrow the window of opportunity" to repair US-Russia relations, according to Russian state news agency TASS. 
Spokesperson Dmitry Peskov told TASS that "the leader of a nation must keep a sober head."
"Of course, every time these personal insults narrow the window of opportunity for our bilateral relations under the current [US] administration. One has to be aware of this," Peskov said, according to TASS.
-CNN's Chandler Thornton contributed reporting to this post.
1 hr 59 min ago
CNN team hears blasts and air raid sirens, sees smoke near Lviv
From CNN's Jennifer Hauser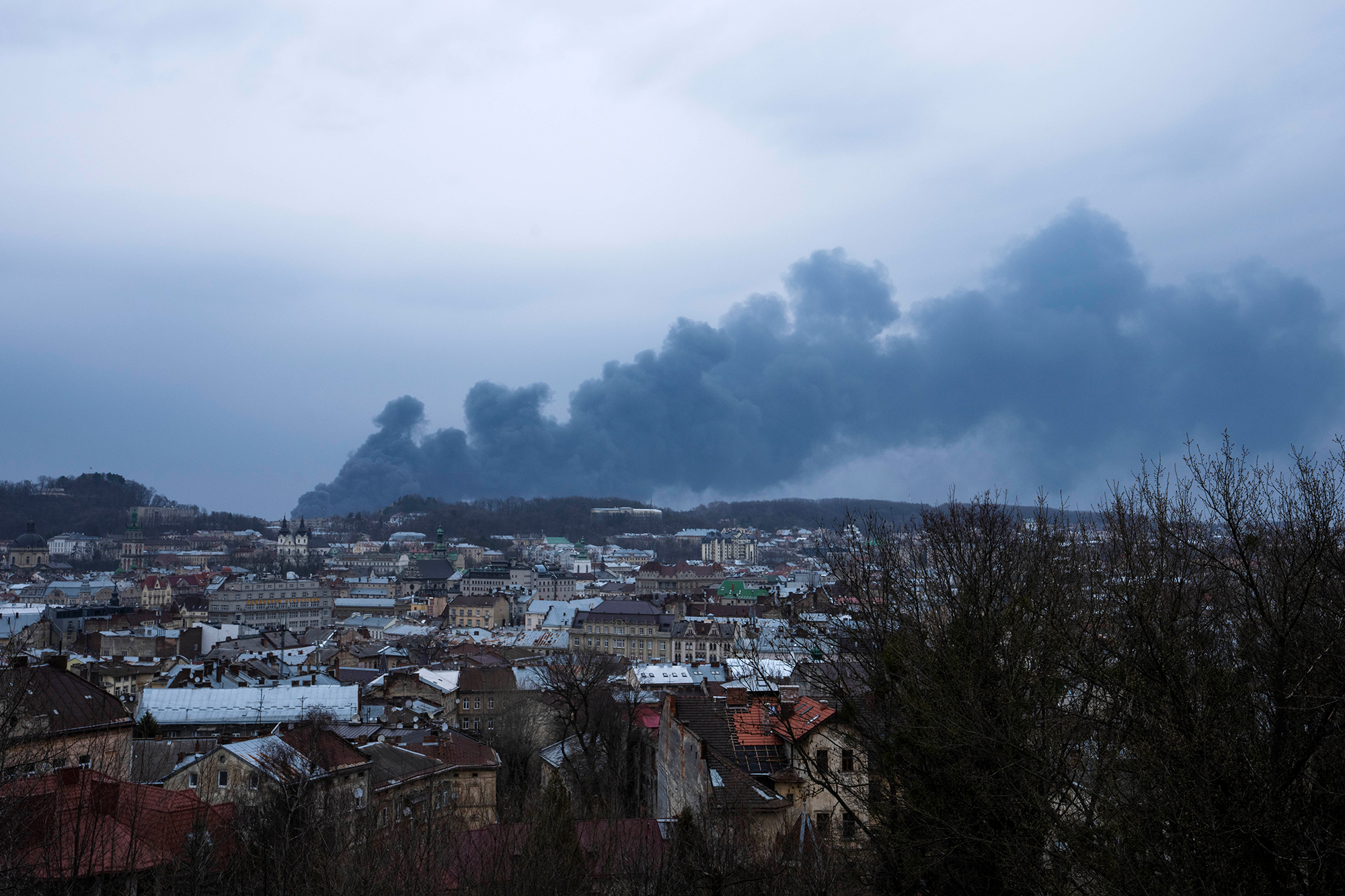 CNN's John Berman saw smoke rising from behind a hill near the western Ukrainian city of Lviv, Ukraine, on Saturday afternoon following a series of three blasts.
"We don't see any strikes in the city itself per se, but smoke rising from the horizon back behind that hill following three large blasts," Berman told viewers.
Earlier, the CNN team heard air raid sirens. 
US President Joe Biden is in Warsaw, which is 400 kilometers (roughly 250 miles) from Lviv.