12 hr 50 min ago
US senator says sending fighter planes to Ukraine is "essential"
From CNN's Chandelis Duster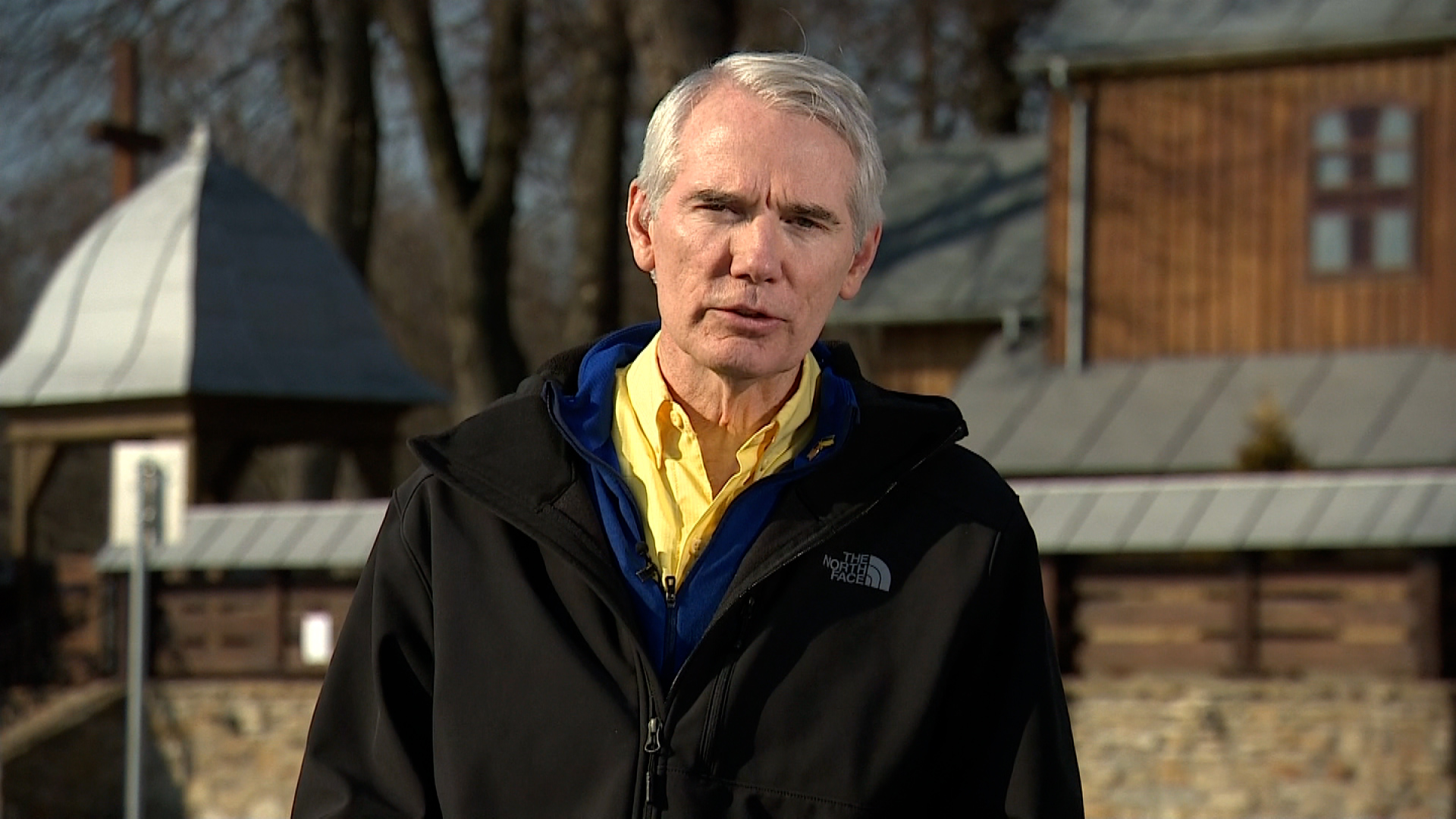 US Sen. Rob Portman, co-chair of the Ukraine caucus, said Sunday that getting fighter planes to Ukraine, including MiG-29s, is essential as Russia intensifies its attacks on the country.
"What we have heard directly from the Ukrainians is they want them badly. They want the ability to have better control over the skies in order to give them a fighting chance," Portman, a Republican from Ohio, told CNN's Dana Bash on "State of the Union."
The Pentagon said last week the US was opposed to a Polish plan to transfer fighter jets to Ukraine through the US and a German air base "at this time." CNN previously reported that NATO members have expressed concerns that providing fighter jets to Ukraine — even if done bilaterally — could be perceived by Russia as the alliance becoming directly involved in the war. National security adviser Jake Sullivan told Bash on Sunday the US is focused on providing other anti-air systems that could help Ukrainians make progress.
Portman, who is in Poland, said he is not sure why the US is hesitating on sending the fighter aircraft after the US has already sent other military equipment, including Stinger anti-aircraft missiles, to Ukraine and said, "the airplanes are also essential."
"And to me, you know, Vladimir Putin and the Russians seem to be saying everything is escalatory and yet they are escalating every single day by coming into Ukraine with these weapons," he said. "So, as they escalate, what the Ukrainian people are asking for is just the ability to defend themselves. Give them the ability to try to stop some of this Russian superiority in terms of air power to be able to save lives and to hopefully end up with a peaceful solution to this."
13 hr 22 min ago
Protests over suspected Russian plans to turn occupied Ukrainian province into breakaway state
From CNN's Tamara Qiblawi in Lviv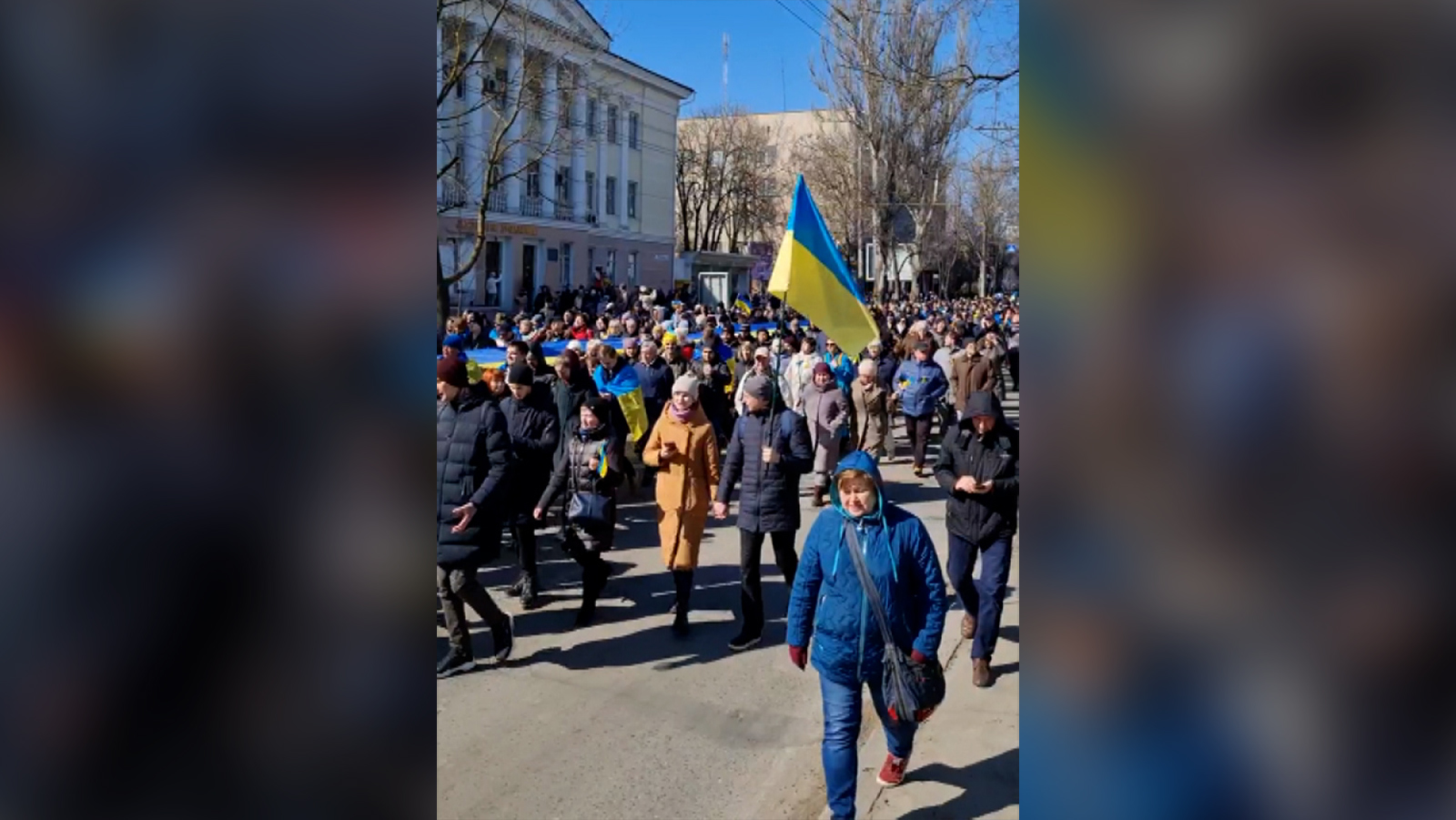 Hundreds of demonstrators have flocked the streets of Russian-occupied Kherson to protest against suspected Russian plans to turn the southern Ukrainian oblast into a breakaway republic.  
In recent days, at least one Kherson regional council official warned that occupation forces were laying the groundwork for the "Kherson People's Republic." If true, the move would mirror Moscow's establishment of two breakaway states in Ukraine's eastern Donbas region. Ukraine considers those breakaway regions — the Donetsk People's Republic and the Luhansk People's Republic — to be Russian occupied.  
Russian President Vladimir Putin recognized the independence of those two territories in the days leading up to Russia's full-scale invasion of Ukraine as part of his pretext to launch an assault on the country. 
"A referendum on the creation of the HPR (Kherson People's Republic) is being prepared in Kherson region," wrote Kherson region council member Sergey Khlan in a Facebook post on Saturday calling on fellow council members to boycott meetings with Russian occupation forces. 
"Become a part of Ukrainian history as citizens, whose names will be remembered by next generations, not as dispensable traitors," he added. 
Demonstrators in Kherson on Sunday morning waved Ukrainian flags, chanted anti-Russian slogans and shouted expletives at Putin, videographer Artem Ivanov, who is on the ground in Kherson, told CNN. "Kherson is Ukrainian," "Putin is a " "Russian soldiers are fascists," and "Russian soldiers go home" were some of the slogans chanted at the protest, according to Ivanov.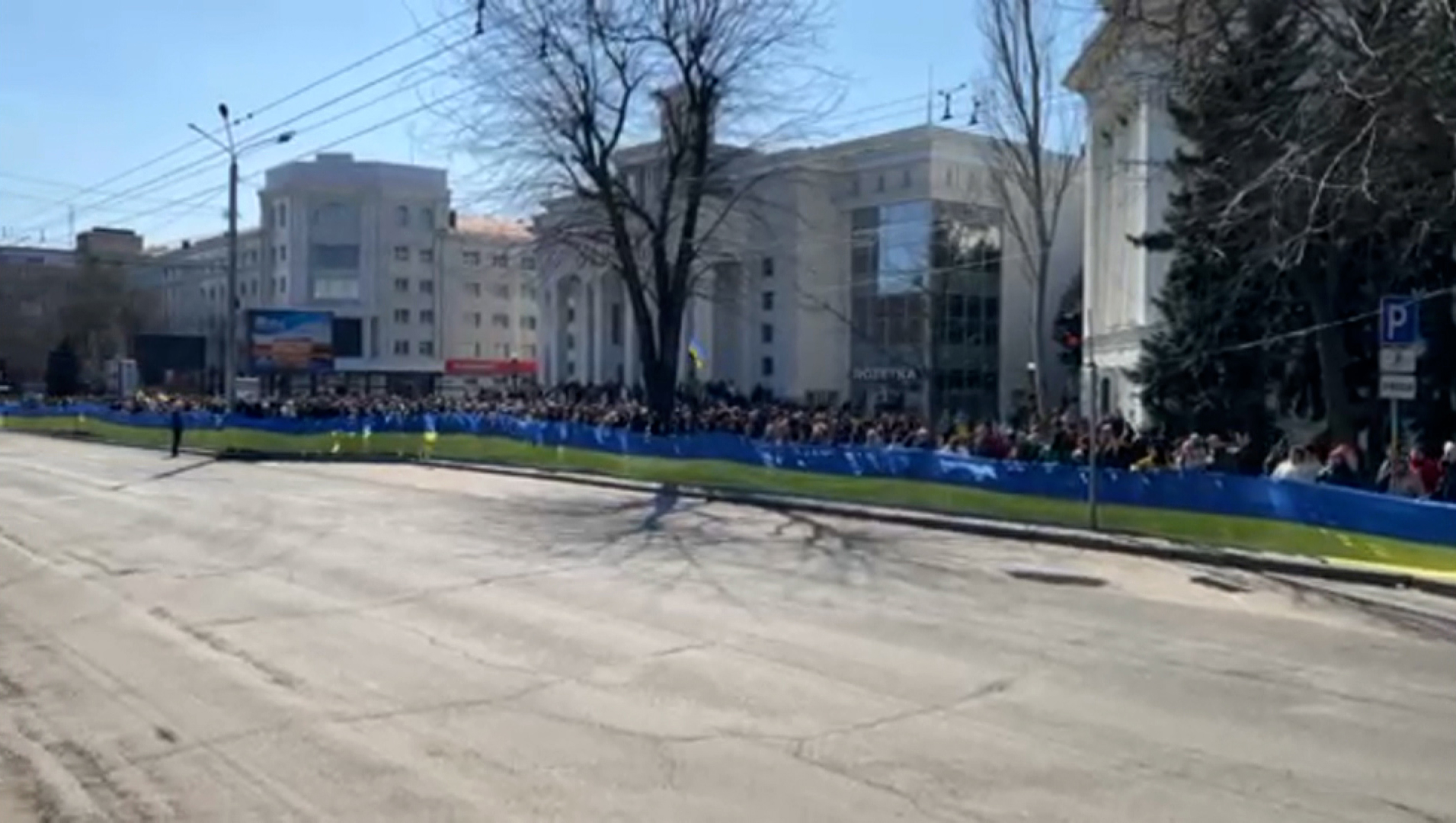 13 hr 9 min ago
US "concerned" about nuclear escalation from Russia, but hasn't seen anything requiring change in posture, says US national security adviser
From CNN's DJ Judd and Jasmine Wright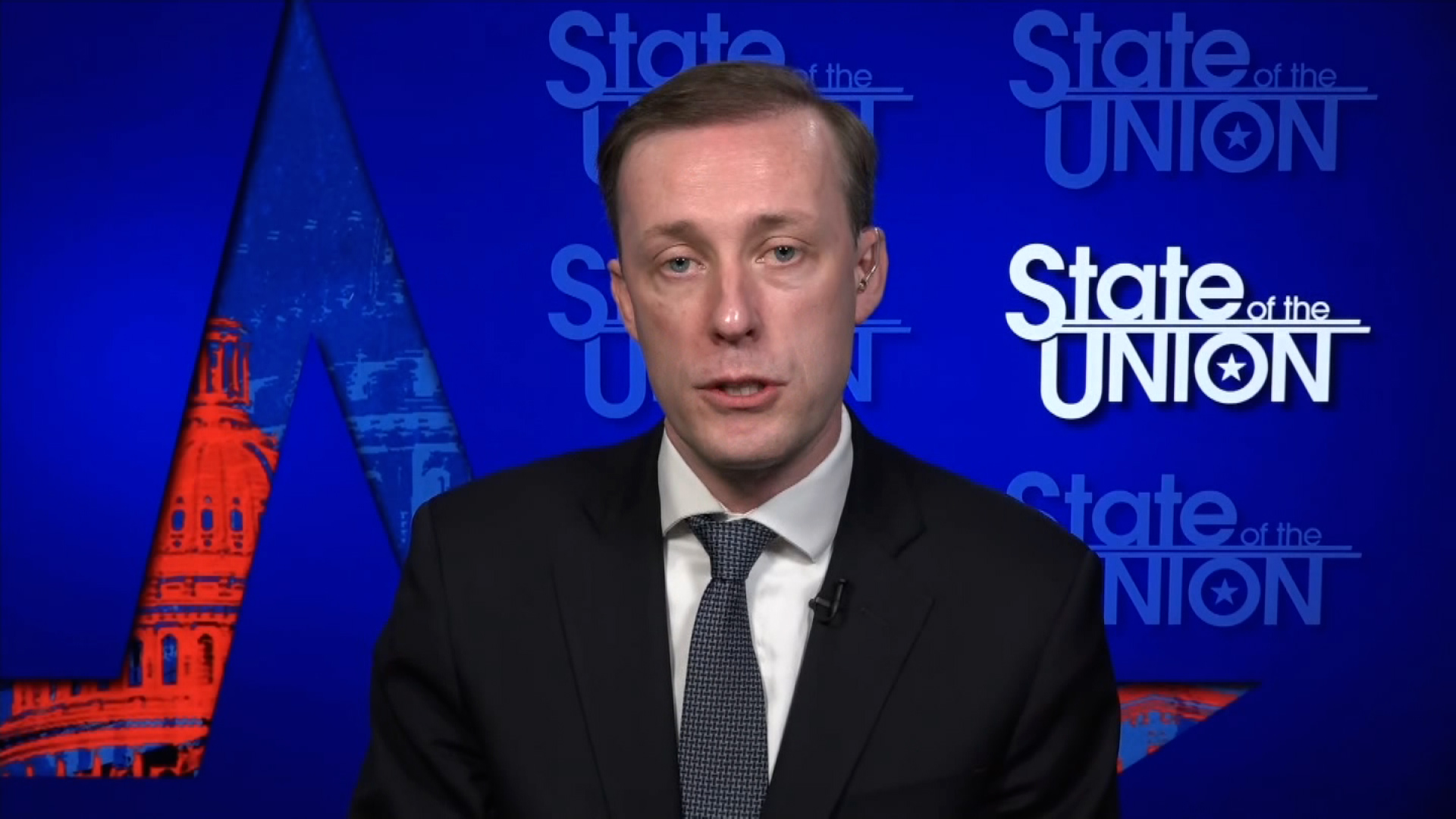 US national security adviser Jake Sullivan told CNN Sunday that while the Biden administration is "concerned about the possibility of escalation," with respect to Russian President Vladimir Putin's nuclear posture, "we have not seen anything that would require us to change our nuclear posture at this time."
"We are watching this extremely closely, and obviously, the escalation risk with a nuclear power is severe, and it is a different kind of conflict than other conflicts the American people have seen over the years," Sullivan told CNN's Dana Bash on "State of the Union." "And the American President, Joe Biden, has to take that responsibility extremely seriously, even as we redouble our efforts to support the Ukrainians. As things stand today, the United States has not adjusted our nuclear posture, but it is something that we monitor day by day, hour by hour, because it is a paramount priority to the President."
He also said that Russian strikes on Lviv, approximately 12 miles from Ukraine's border with Poland, is a sign Putin "is frustrated by the fact that his forces are not making the kind of progress that he thought that they would make against major cities, including Kyiv, that he is expanding the number of targets, that he is lashing out, and that he is trying to cause damage in every part of the country."
14 hr 41 min ago
Missile strikes in Lviv region are third strike in western Ukraine in the last couple of days, Pentagon says
From CNN's Ellie Kaufman
A series of missile strikes early Sunday that struck the Yavoriv military training ground in the Lviv region of western Ukraine is the third strike by Russian forces in the western part of Ukraine "in the last couple of days," Pentagon spokesman John Kirby said on ABC's This Week Sunday.
"This is the third now facility or airfield that the Russians have struck in Western Ukraine in just the last couple of days, so clearly, at least from an airstrike perspective, they're broadening their target sets," Kirby said.
There has been "some damage" to the military training facility, Kirby said, but the Pentagon is "still assessing and talking to the Ukrainians" about the extent of the damage from the strikes, Kirby said. 
No American service members were at the training facility; they had all left the training facility weeks prior, Kirby added.
When asked if a no-fly zone would have prevented this attack, Kirby said, "No, I don't think so." 
Kirby added that the US establishing a no-fly zone over Ukraine would mean war with Russia.
"The United States getting involved in combat in Ukraine right now, or over the skies of Ukraine right now leads to war with Russia, and there's very little that you can see that would make sense for this war to be escalated between two nuclear powers," Kirby said.
14 hr 26 min ago
Russian delegation member: There is "significant progress" in negotiations with Ukraine, RIA reports
From CNN staff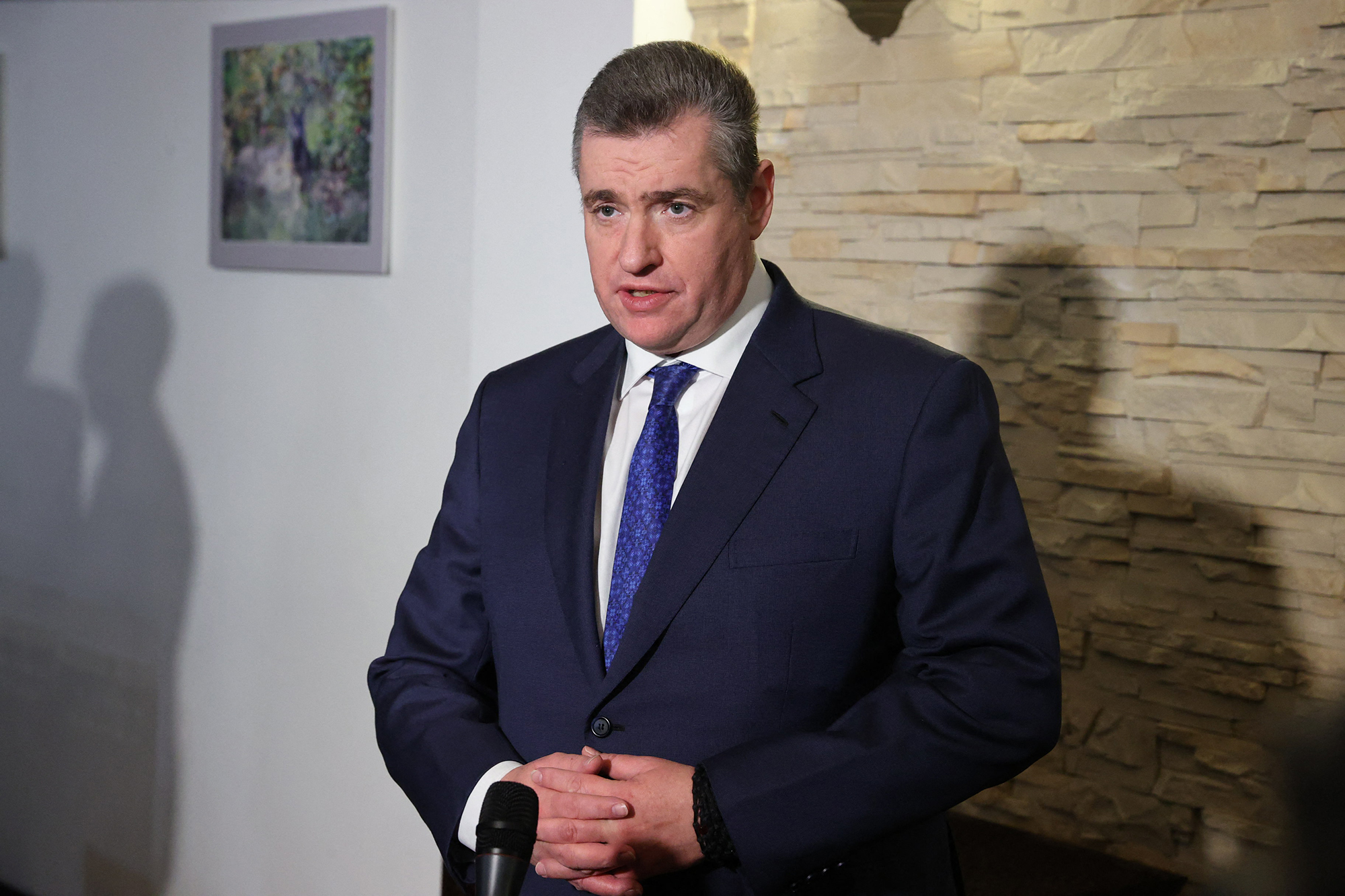 Leonid Slutsky, a Russian delegation member for the Ukraine-Russia talks, said "significant progress" has been made in negotiations with the Ukrainian delegation since the beginning of talks, Russian state news agency RIA reports.
"If we compare the positions of the Russia and Ukraine in the negotiations at the very beginning and now, we can see significant progress," Slutsky said.
"I expect the progress may grow into a unified position of both delegations, and into a document for signing," he said.
Background on talks: Talks between Ukraine's and Russia's diplomats last week yielded no discernible progress. Supposedly safe routes out of the country have repeatedly been contested. The civilian death toll continues to rise, and by the end of the week, both sides were trading accusations over the use of chemical weapons.
While Russian President Vladimir Putin said Friday there had been "certain positive advances" in negotiations with Ukraine, US and European officials and diplomats who spoke to CNN all expressed deep skepticism about the state of talks. None felt Putin's actions to date have suggested the Russian leader is ready to find a diplomatic off-ramp to end the war.
14 hr 55 min ago
Kyiv region police say American journalist killed by Russian forces in Irpin 
From CNN's Clarissa Ward in Kyiv and Mick Krever in Poland
Kyiv region police said that an American journalist was killed by Russian forces in Irpin, Ukraine, according to social media posts on Sunday. Kyiv police said another American journalist was wounded by Russian troops. 
CNN has been unable to verify which media outlet the American journalists were working for in Ukraine. CNN has been unable to independently verify the death. 
15 hr 19 min ago
Witness from inside Yavoriv military base describes his experience of missile strike
From CNN's Roman Tymotsko in Lviv
A witness to the missile strike on the Yavoriv military base in western Ukraine, who was on the base when it happened, told CNN about his experience.
"We heard an alarm and went to a bomb shelter, before returning when it seemed everything had stabilized. Then, about 30-40 minutes later, sometime between 5 a.m. and 5:30 a.m. [local time], we heard a sudden clap. Our positions were being bombed. We got on the floor. I heard what sounded like rocket launches, and I heard the sound of explosions on the ground. I heard three strikes. We are currently searching for people under the rubble; maybe there is someone still alive. The explosion craters are 10 meters deep," the witness told CNN in a phone conversation. 
15 hr 40 min ago
"I saw when the rocket hit the ground," says father in the aftermath of Russian airstrikes at military base near Lviv
From CNN's Ivana Kottasova in Lviv
Up until Sunday morning, the Lviv region in western Ukraine was a safe haven in a war-torn country.
It was where families living further east sent their children to keep them safe.
Vasyl Kunets, a driver who lives in Novoyavorivsk, a town about 20 miles from Lviv, said that up until now, when the sirens indicating a potential air raid went off, he wasn't too worried. He'd go to safety, but perhaps not as fast as he should have.
The war was still far away.
That all changed when Russian strikes hit the Yavoriv military training ground at the edge of Novoyavorivsk and killed 35 people, the Lviv regional administration said Sunday.
More than 30 missiles fired from warplanes over the Black and Azov seas had hit the military base, said Maksym Kozytsky, head of the Lviv regional military administration, in a statement posted to Facebook Sunday.
Suddenly, the war was on Kunets' doorstep.
The training base is intertwined with the life in the town. Many of its residents are employed there, or in services supporting it. Those who don't work for it directly know someone who does.
Kunets saw the damage they've inflicted first hand.
"I saw when the rocket hit the ground, I've seen the explosion and the smoke, a mushroom cloud of smoke and fire," he told CNN.
"It lasted 30 minutes and I heard maybe eight strikes, maybe some rockets crashing or part of rockets exploding separately, I don't know."
Kunets told CNN the attack against the base "changed everything."
"We are worried now. I'm not worried for myself but for my kids. People are worried about the safety of their families and some of them are considering moving somewhere else," he said.
Kunets said he is now thinking about sending his two children away from Ukraine — something he didn't necessarily consider before.
"It feels less safe and more dangerous. Yesterday and the day before yesterday we were more relaxed and when we heard the alarms we didn't move so quick, we didn't take it too seriously. But today we are packing and being ready to leave very fast when we hear the alarm," he said.
CNN's Sofiya Harbuziuk contributed reporting to this post.
15 hr 30 min ago
Pope Francis pleads "in the name of God" to stop attacks on Ukraine
From CNN's Nicola Ruotolo in Rome and Duarte Mendonca in London
Pope Francis made an appeal for peace in Ukraine during his Angelus prayer in St. Peter's Square on Sunday, calling Russia's attacks an "unacceptable armed aggression" against Ukraine.
"In the name of God, let the cries of those who suffer be heard and let the bombings and attacks cease," he said.
The Pope asked the attacks to stop and added that the bombing of children's hospitals and targeting civilians in Ukraine is "barbaric" and with "no valid strategic reason".
"In the face of the barbarity of the killing of children, innocent people and defenseless civilians, there are no strategic reasons to be believed," the Pope said. "All that is needed is to stop the unacceptable armed aggression before it reduces cities to cemeteries."