10 hr 47 min ago
US secretary of state: Ukraine is using defense support funding "effectively against Russian aggression"
From CNN's Jennifer Hansler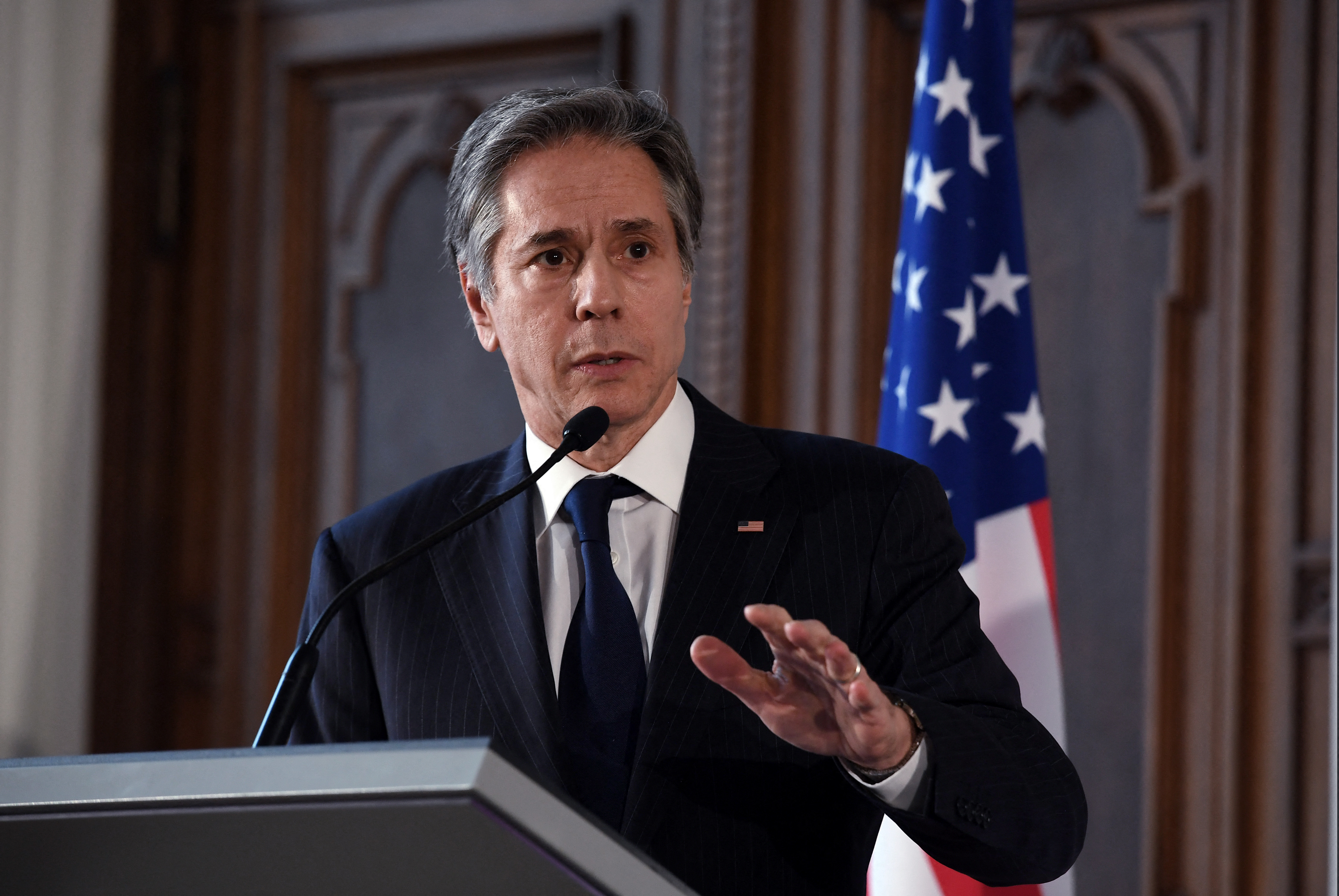 US Secretary of State Antony Blinken said Monday that 70% of the additional $350 million in defense support to Ukraine that President Joe Biden authorized in recent weeks "is already in the hands of Ukrainians, being used very effectively against Russian aggression."
Speaking at a news conference in Latvia, Blinken said he expected $10 billion in emergency aid to be provided by the US Congress "very quickly," and said such aid will go to "additional security assistance," "humanitarian assistance for Ukraine both inside Ukraine and outside," and "to further efforts to reinforce NATO's eastern flank."
The top US diplomat reiterated that the US believes a no-fly zone has the potential to widen the conflict.
"Our efforts are all in the direction of ending this war as quickly as possible, ending the suffering as quickly as possible. And what we don't want to do is to widen it, and to widen it to our own countries, to our own territory. The no-fly zone, to be very clear about what that involves is, that means that if Russian planes violate the zone that's declared, we shoot them down. And that runs the considerable risk of creating a direct conflict between our countries and Russia and thus a wider war, which is in no one's interest, including the Ukrainian people," Blinken said.
10 hr 56 min ago
Third round of Ukraine-Russia talks has started, Russian state media reports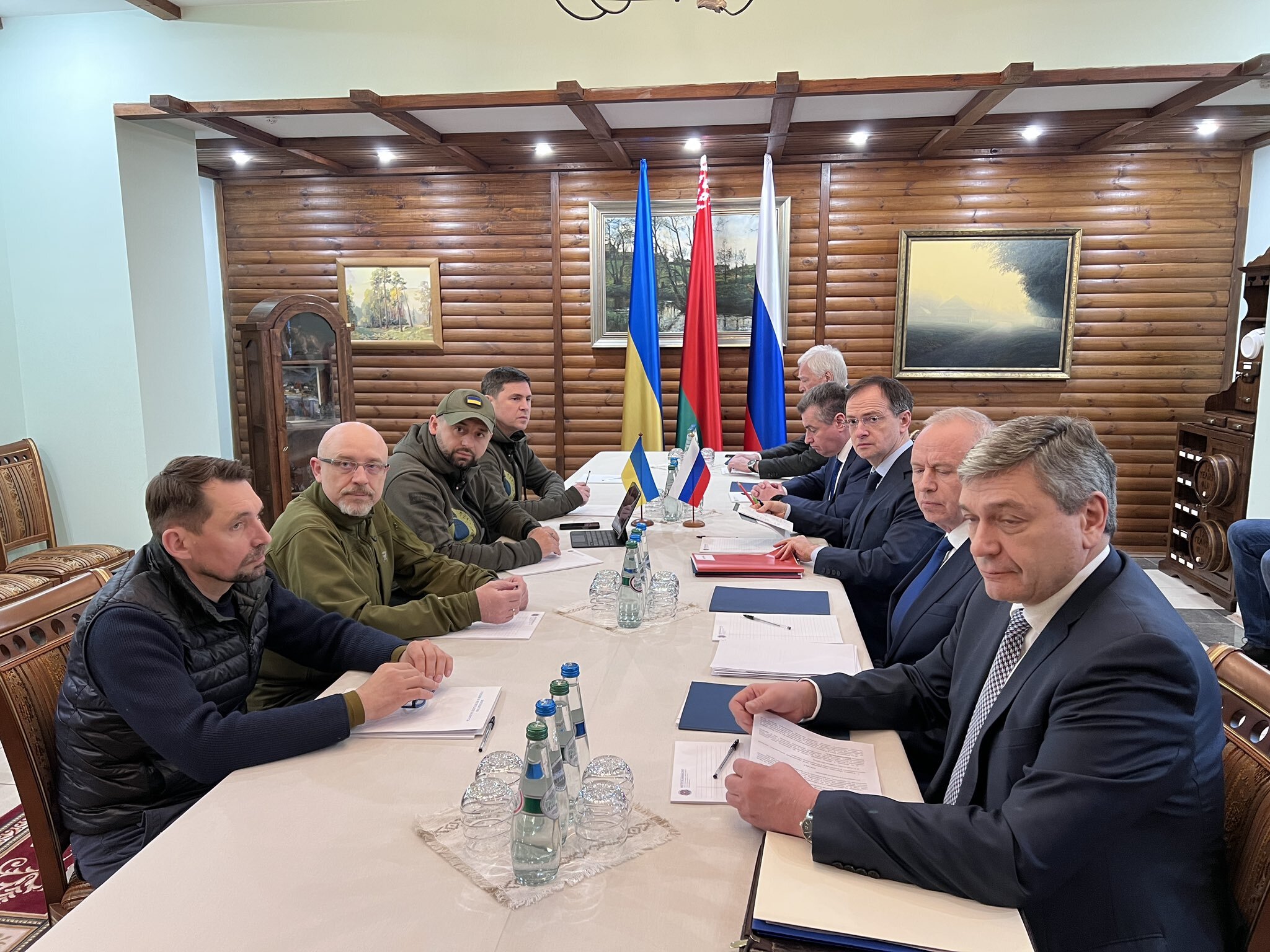 The third round of talks between Ukraine and Russia has started in Belarus, state media agency Russia 24 announced on air.
The location for this event has not been disclosed. The first round of talks, on February 28, and the second set, on March 3, both took place in Belarus. 
Meanwhile, Russian Foreign Minister Sergey Lavrov and Ukrainian Foreign Minister Dmytro Kuleba will meet Thursday in Antalya, Turkey, according to the Russian foreign ministry. This has not yet been confirmed by the Ukrainian foreign ministry.
10 hr 56 min ago
Here are the latest companies cutting ties with Russia over the invasion in Ukraine
From CNN's Aliza Kassim
As Russia's invasion continues, more companies continue to announce that they're ceasing to do business with Russia.
On Monday, Italian fashion group Prada and Japanese automobile manufacturer Nissan became the latest businesses to pull out.
Prada has suspended operations in Russia, citing Russia's invasion in Ukraine. The Prada group also owns, Miu Miu, Car Shoe, Churches and Marchisi.
Prada's spokesperson Marta Monaco told CNN, "the Prada Group suspended its retail operations in Russia. Our primary concern is for all colleagues and their families affected by the tragedy in Ukraine, and we will continue to support them." The statement follows a pledge by Prada and other Italian fashion houses to donate aid to Ukraine. Companies giving support include Armani, Bottega Veneta and Dolce & Gabbana.
Responding to the donation, UNHCR's representative for Italy, Chiara Cardoletti, said, "We estimate that 12 million people in Ukraine will need help and protection, while more than 4 million Ukrainian refugees could need protection and care in the neighboring countries in the forthcoming months." Citing the need for immediate assistance, Caedoletti added in her news statement, "Enormous resources are needed and this is why we hope that in the coming hours other companies in the fashion sector, and in other sectors as well, will give their contribution."
Nissan announced today it is suspended the export of vehicles to Russia. In a news statement released by the company, the Japanese manufacturer added that it "anticipates that production will stop soon at our plant in St. Petersburg."
The statement stressed Nissan's commitment and support to assisting with the humanitarian crisis in Ukraine by creating a 2.5 million euros fund (about $2.7 million). "1 million Euros would be donated to the Red Cross and other non-profit organizations to support ongoing emergency activities that provide lifesaving assistance and essential supplies to families and children at this time. Where it can help, the company is also prepared to donate vehicles."
The company's CEO, Makoto Uchida, said "We have all been moved by the suffering of so many people and families – including members of our own Nissan family. We have created the Nissan Cares fund to stand by our employees, and to support to the international efforts working around the clock to respond to this immeasurable human tragedy."
Other car companies that are stopping their business with Russia include: General Motors, Toyota, and Volkswagen.
On Sunday, American Express became the latest credit card company to announce it is ending its operations in Russia as its invasion into Ukraine escalates.
The company said in a statement that globally issued American Express cards will no longer work in Russia, and cards issued in Russia won't work outside the country.
American Express also said it is ending its business operations in Belarus.
"This is in addition to the previous steps we have taken, which include halting our relationships with banks in Russia impacted by the US and international government sanctions," American Express said in a statement Sunday.
One day earlier, Mastercard said it was suspending its network services in Russia, and Visa also announced it was suspending all operations there.
Social media companies are also restricting access in Russia. In the latest move, TikTok said Sunday it is suspending some features in Russia in light of the country's new law penalizing misinformation. 
"In light of Russia's new 'fake news' law, we have no choice but to suspend livestreaming and new content to our video service while we review the safety implications of this law," the company tweeted. "Our in-app messaging service will not be affected."
The company added in a blog post: "We will continue to evaluate the evolving circumstances in Russia to determine when we might fully resume our services with safety as our top priority." 
Facebook parent company Meta said that it would block access to Russian news outlets RT and Sputnik across the European Union.
The move comes after receiving "requests from a number of governments and the EU to take further steps in relation to Russian state controlled media," Nick Clegg, the company's VP of global affairs, wrote in a tweet.
Meta has also said it has applied algorithmic restrictions to Russian state media that should prevent it from surfacing as prominently in users' feeds.
Twitter has similarly announced plans to "reduce the visibility and amplification" of Russian state media content.
A whole host of more companies are pulling out of Russia. Read more here. 
11 hr 17 min ago
Mayor of a Russian-hit Ukraine suburb claims forces are targeting evacuation routes
From CNN's Niamh Kennedy in London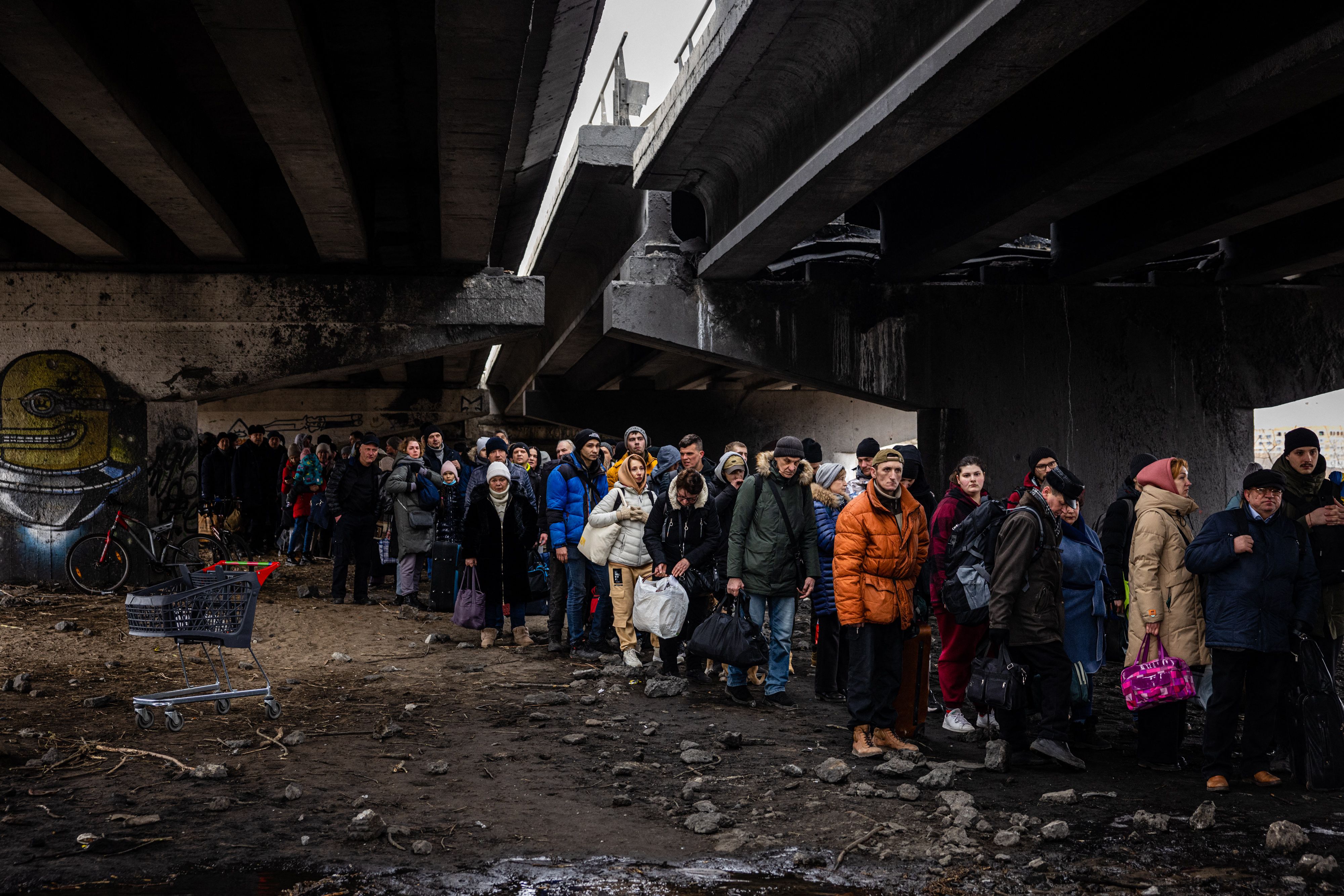 Russian forces are "100% targeting civilians" along evacuation routes in Ukraine, said Oleksandr Markushyn, the mayor of Irpin, a suburb that lies northwest of Kyiv, which was hit by a Russian military strike on Sunday.
"These are not an army, these are animals," the mayor told CNN. "They're killing civilians. They're shelling out our city, our residential buildings, and ambulances. They're firing on ambulances. This is just a monstrosity."
On Sunday, two mortar or artillery shells hit a checkpoint the suburb, killing a family with two children and several other civilians trying to flee the Russian invasion, according to the mayor.
"A group of people were being led to evacuate, and within 50 meters, I saw a mortar ordinance blew up and killed two children, tore them in two in front of my very eyes, plus their parents. They were killed in a matter of seconds," he said Monday.
The checkpoint has been the site of intense shelling by the Russian military in recent days, Ukrainian authorities have said.
On the first day of the Irpin evacuation effort, Russian forces shelled the train and on the second day they blew up the rail track, injuring three people, Markushyn said, maintaining that Russian forces are "targeting these routes" and "trying to intimidate" the population of Irpin.
Kyiv police said Monday a further 2,000 people have been evacuated from Irpin.
12 hr 6 min ago
The UK is no longer able to provide in-person consular assistance in Ukraine 
From CNN's Niamh Kennedy in London
The UK is no longer able to provide in-person consular assistance to British people in Ukraine, according to Foreign Commonwealth and Development Office (FCDO).
"The UK Government retains a diplomatic presence in Ukraine, but we can no longer provide consular assistance in person due to the deteriorating security situation," the FCDO said in updated travel advice published Monday. 
British nationals needing consular assistance have now been instructed to call a 24-hour helpline or avail full consular services in countries neighboring Ukraine.
British nationals have also been advised to "remain vigilant" if they decide to remain in Ukraine throughout potential combat operations and to keep their departure plans under constant review.  
11 hr 53 min ago
A secret airfield in Eastern Europe is home to a multinational effort to send weapons to Ukraine
From CNN's Oren Liebermann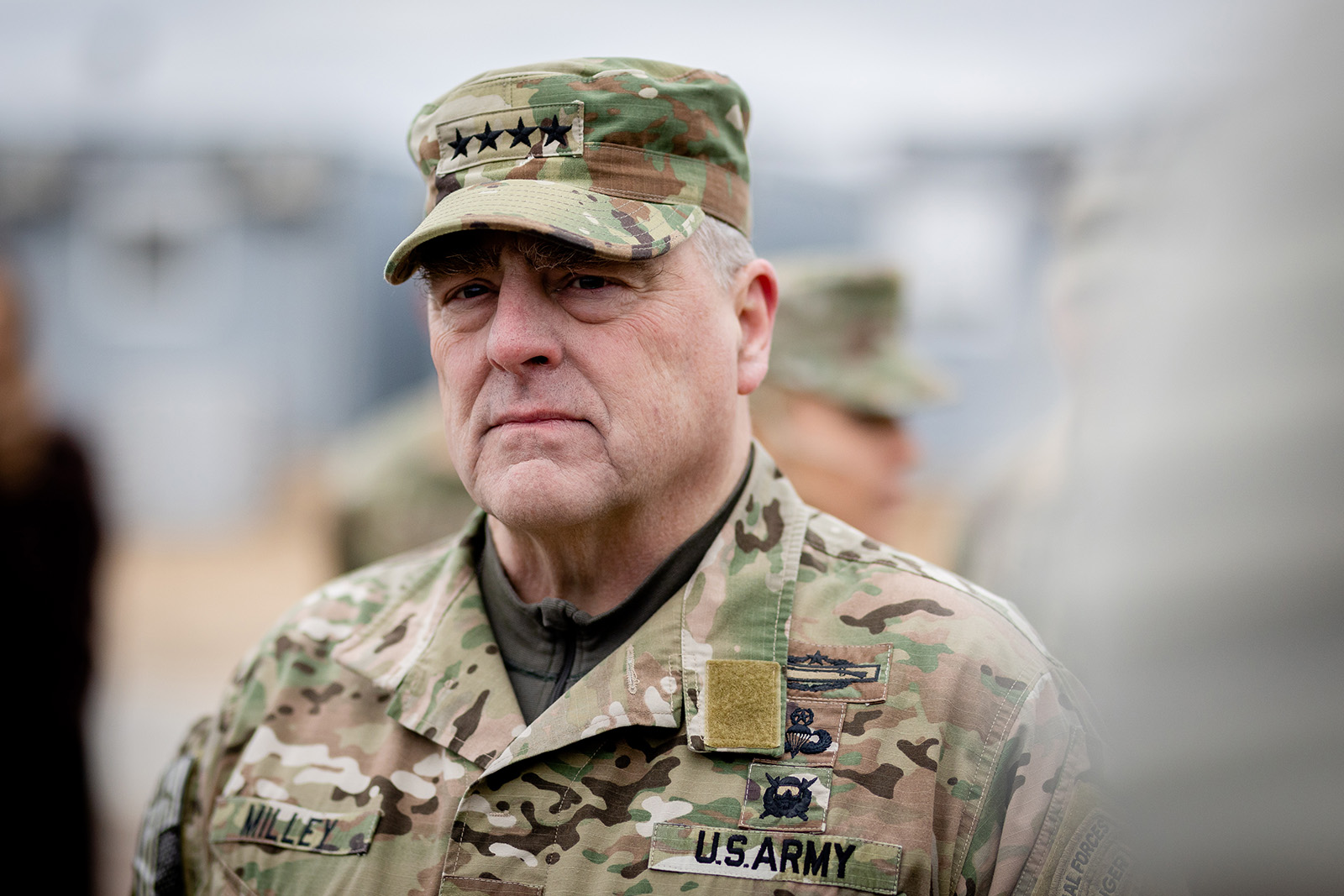 United States' Chairman of the Joint Chiefs of Staff Gen. Mark Milley went last week to an undisclosed airfield near the Ukrainian border that has become a hub for shipping weapons, a senior Defense Department official said, seeing firsthand the multinational effort to get weapons into Ukraine amid Russia's unprovoked invasion.
While at the airfield, Milley met with troops and personnel and examined the shipment activity, the official said Friday. The site has become a beehive of activity in recent days, going from a handful of flights each day to as many as 17 — the field's maximum capacity.
The airport's location remains a secret to protect the shipments of weapons, including anti-armor missiles, into Ukraine. The Russian military has not targeted these shipments once they enter Ukraine, the official said, but there is some concern Russia could begin targeting the deliveries as its assault advances.
The US and other NATO members have so far sent Ukraine 17,000 anti-tank missiles and 2,000 stinger anti-aircraft missiles, a senior US official told CNN.
Since even before Russia's invasion began late last month, the skies above Europe have been filled with military cargo aircraft of the US and others, particularly C-17s, the backbone of the US airlift fleet. The flights have been repositioning troops along NATO's eastern flank, but also moving weapons to the transfer points where they can be delivered to Ukraine. The pace of the flights has only increased.
Since Russia's invasion began, 14 countries have sent security assistance to Ukraine, the official said, some of whom had rarely sent such substantial equipment before.
The "vast majority" of a $350 million US security assistance package has already been delivered to Ukraine, according to the official, only one week after it was officially approved by the White House.
Once in possession of the weapons, the Ukrainians have used them to slow and stall Russian assaults in different parts of Ukraine.
Read the full report here.
10 hr 11 min ago
What you need to know about the situation in Ukraine today
The human toll of the invasion of Ukraine continues to mount as Russian forces upped their bombardment of civilian areas and infrastructure over the weekend.
As conditions worsened in a number of key Ukrainian cities, the United Nations said more than 1.5 million people have fled the country so far.
Here's the latest:
Capital bombarded: There has been heavy fighting early Monday in a broad area from the north to the west of Kyiv, according to Ukrainian officials and social media content. Russian forces appear to have gone on the offensive in several areas to push towards the Ukrainian capital. Video geolocated by CNN on Monday shows Russian tanks taking up positions in a densely-populated area just west of Kyiv.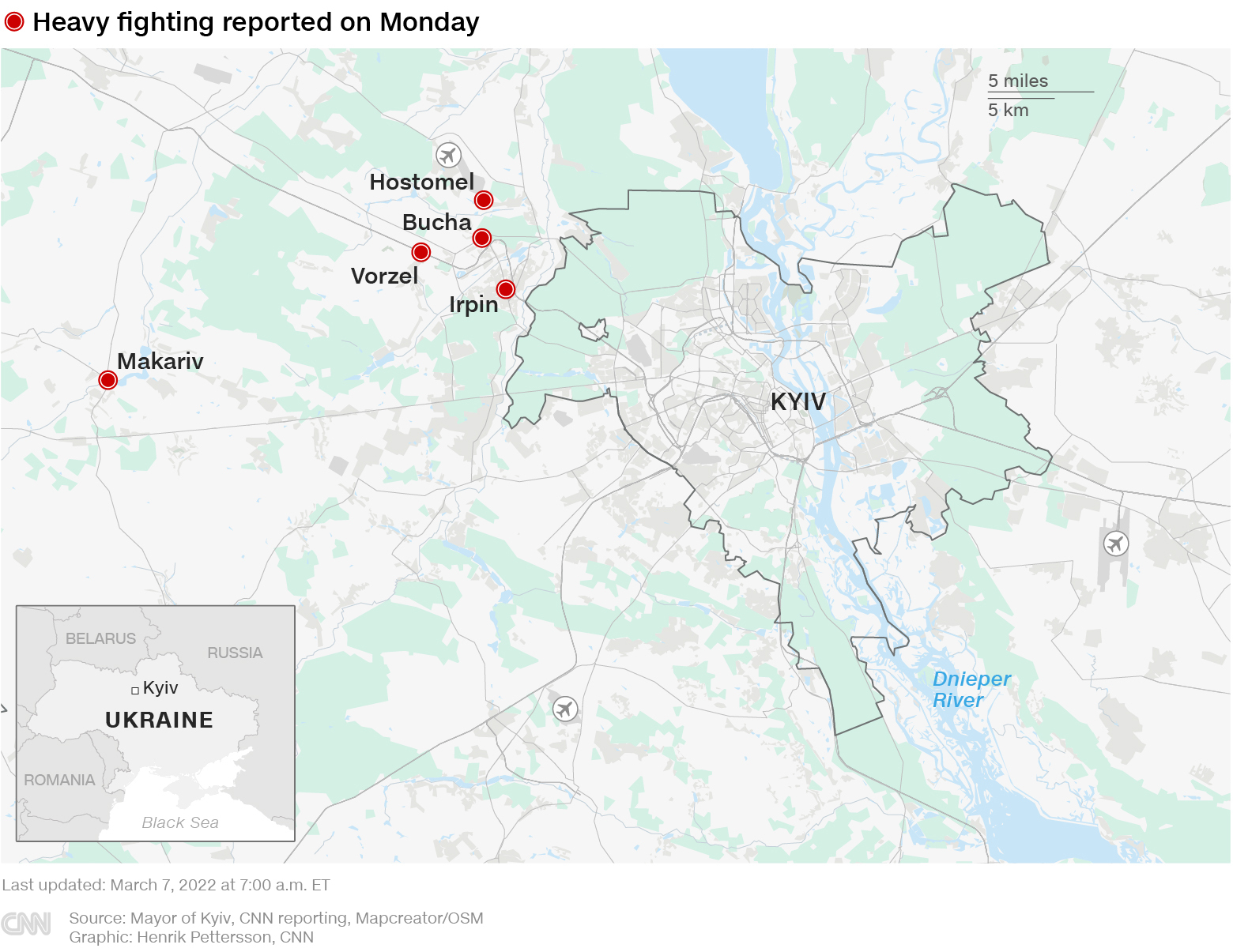 Southern assault wears on: Russian troops continued an offensive towards the strategic port city of Mykolaiv Monday morning, with officials warning residents to stay in their shelters. The warning of an assault came hours after Mykolaiv Mayor Oleg Senkevich said the city had been hit by Russian missiles at dawn. CNN saw Sunday evidence that cluster munitions had landed near civilian areas, and an official at a Mykolaiv hospital told CNN that one person had been killed and three injured in the shelling.
A city under siege: Fears are mounting for civilians trapped in the besieged southern Ukrainian cities of Mariupol and Volnovakha, as the onslaught from Russian forces continues. One man, who escaped from Volnovakha two days ago, told CNN about the conditions in parts of the city, where he spent days hiding in a basement. "People are there for 11 days now. Some got out, but around 450 are still there," he told CNN, adding that he has had no communication with the people since he left, and they are still there as far as he knows.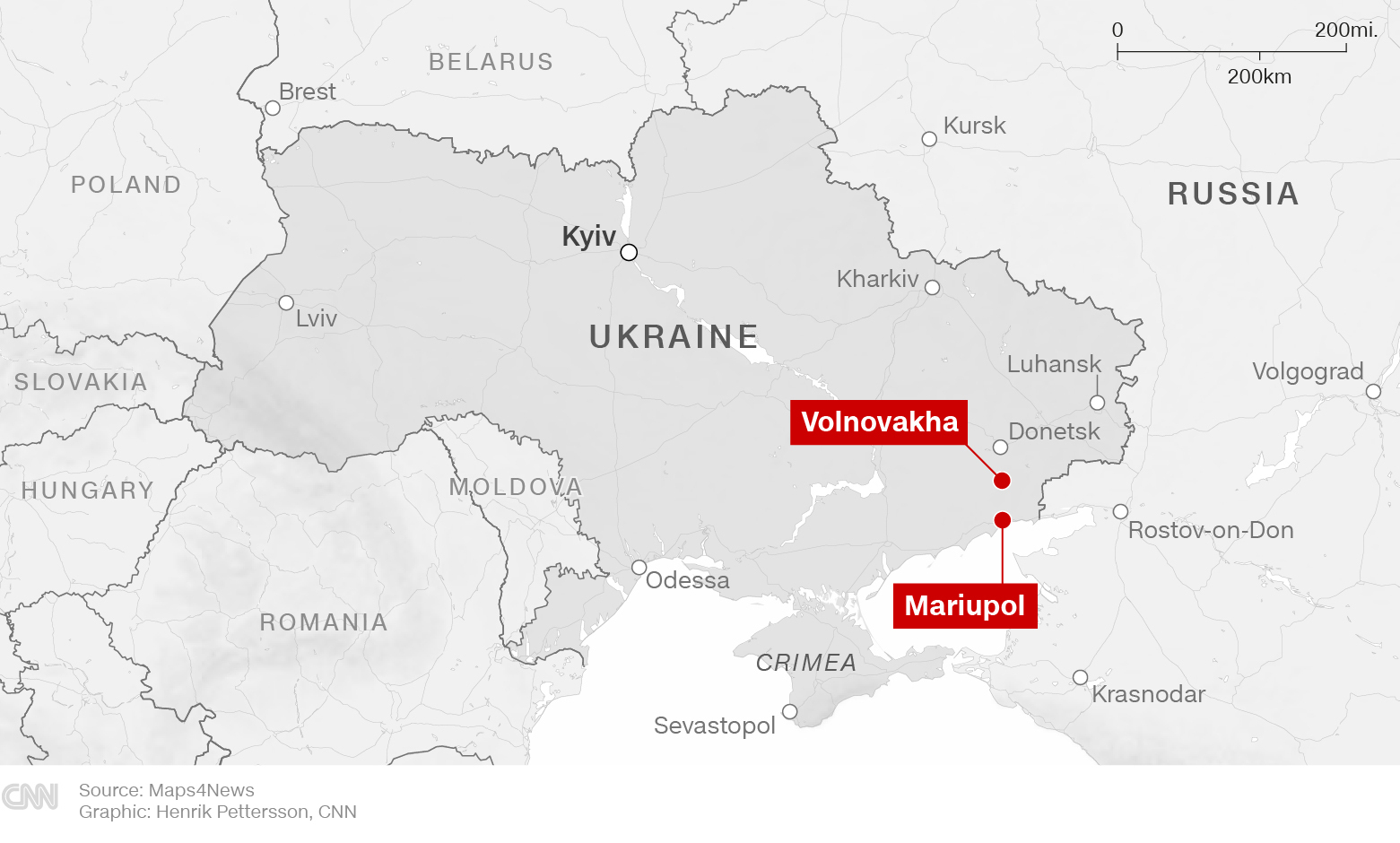 Almost all of Russia's proposed routes out of Ukraine go to Russia or Belarus: Ukraine has slammed Russia's unilateral announcement of evacuation routes for civilians trying to escape the conflict. Ukrainian Deputy Prime Minister, Iryna Vereshchuk described the Russian proposal as unacceptable, particularly as all but one of the corridors leads to Russia or close ally Belarus. Meanwhile, an official with one humanitarian organization described the announcement as "cynical as well as impractical, without any preparation."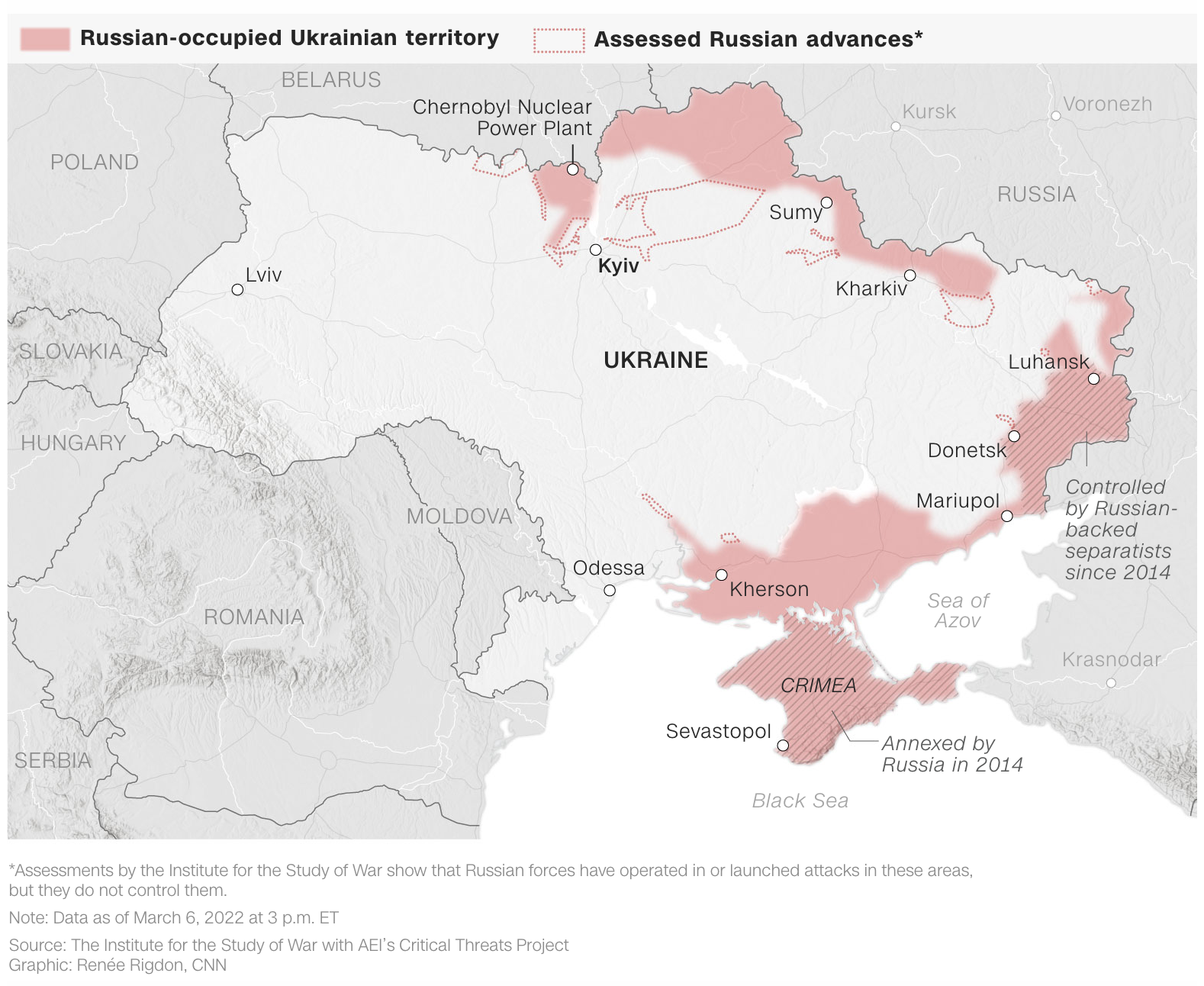 Civilian death toll: More than 360 civilians have been killed in Ukraine since Russia's invasion began on February 24, the UN said in a statement Sunday. So far, 1,123 civilians have been wounded, including 364 killed and 759 injured, the statement said, while acknowledging that the real figures are likely "considerably higher." CNN cannot independently verify the casualty numbers.
EU expects 5 million refugees: The European Union "needs to prepare for five million" refugees from Ukraine, the EU's high representative Josep Borrell said Monday. More than 1.5 million people have already crossed from Ukraine into neighboring countries, UN refugee agency commissioner Filippo Grandi said Sunday, describing the situation as "the fastest growing refugee crisis in Europe since World War II."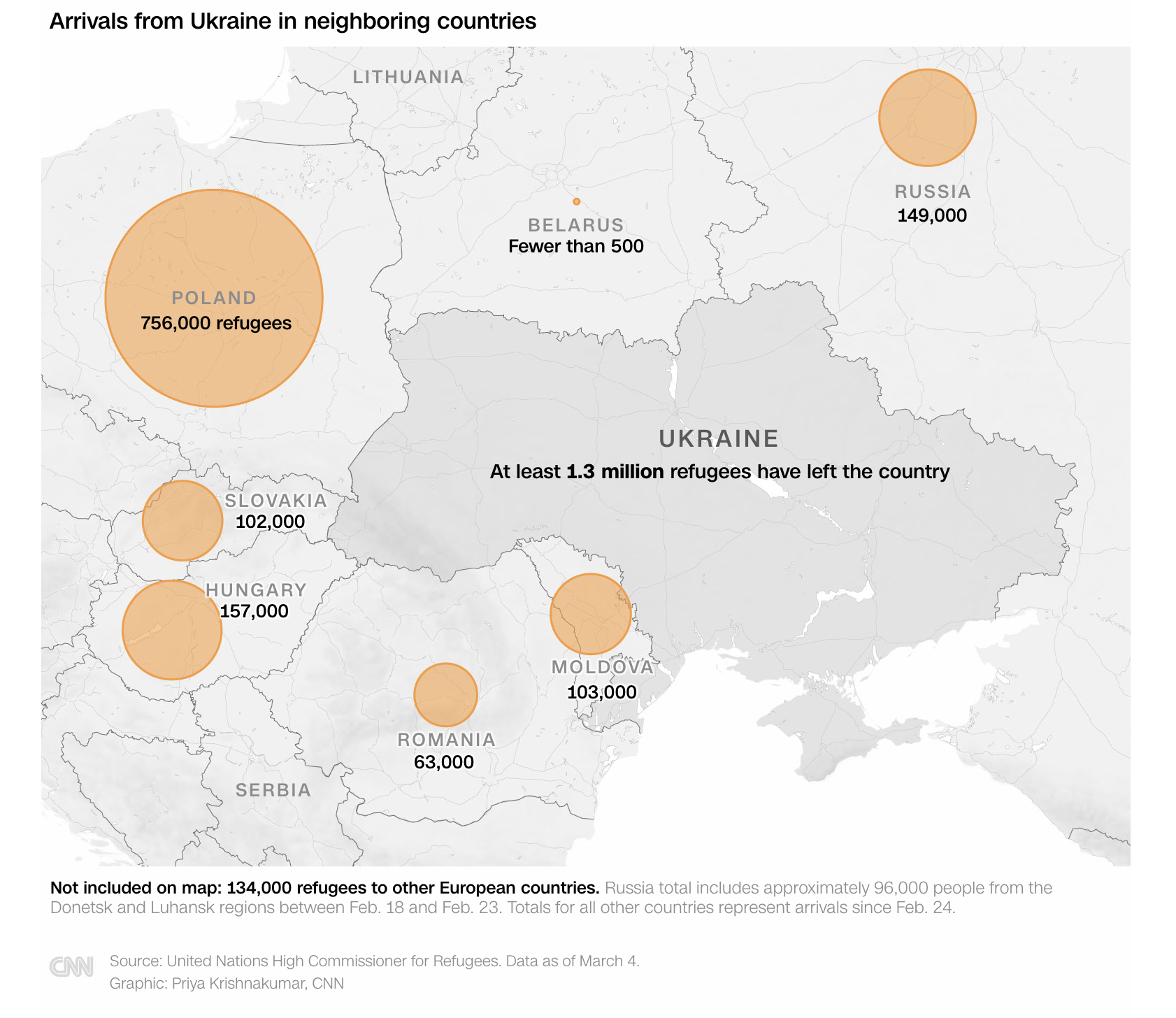 Military power: Russia has fired a total of 600 missiles since the invasion of Ukraine began, a senior US defense official said, and Russia has committed approximately 95% of its amassed combat power inside Ukraine.
NATO sends missiles: The US and other NATO members have so far sent Ukraine 17,000 antitank missiles and 2,000 stinger anti-aircraft missiles, a senior US official told CNN. NATO is also looking at more permanent deployment in the Baltics, said US Secretary of State Anthony Blinken.
More talks: Ukraine and Russia are scheduled to hold a third round of talks Monday at 4 p.m. Ukraine time (9 a.m. ET), Ukrainian presidential adviser Mykhailo Podolyak tweeted.
12 hr 40 min ago
 Ukraine's EU membership will be discussed in "coming days," European Council president says
From CNN's James Frater and Sarah Dean in London
Ukraine's request for European Union membership will be discussed in the "coming days," European Council President Charles Michel said in a tweet Monday.
"The EU stands firmly by Ukraine's side in efforts to alleviate humanitarian suffering inflicted by Russia's aggression and ensure nuclear safety," Michel added. "The EU's solidarity, friendship and unprecedented assistance for Ukraine are unwavering."
Meanwhile, Ukraine's President Volodymyr Zelensky also tweeted about his call with Michel.
"Discussed the threat to nuclear facilities, shelling of civilian and critical infrastructure. We have to stop this. Raised the issue of Ukraine's membership in the EU. The people of Ukraine deserve this. Stop Russia."
13 hr 4 min ago
Russian defense ministry and UN officials held meeting on humanitarian situation in Ukraine
From CNN's Sarah Dean in London
Officials from the Russian Ministry of Defense (MOD) held a meeting in Moscow with representatives from the United Nations to discuss the situation in Ukraine Monday. 
"The formula of interaction for solving humanitarian problems on the territory of Ukraine, in the DPR and in the LPR was discussed," a statement from the Russian MOD said without providing further details.
It comes after Russia's Defense Minister Sergei Shoigu and UN Secretary-General Antonio Guterres held a phone call, the MOD said.
Guterres tweeted Sunday, "It is absolutely essential to establish a pause in the fighting in Ukraine to allow for the safe passage of civilians from Mariupol, Kharkiv and Sumy, as well as all other places caught in conflict, and to ensure life-saving humanitarian supplies can move in for those who remain."