The word is getting out there: Emerald Cruises, long thought of as Scenic Luxury Cruises' thrifty little sister that promised a good time on a budget, is no longer simply the "alternative" option in Scenic Group's roster.
Emerald is positioning itself firmly now as a first choice for premium cruisers.
That at least is the point Scenic Group USA's vice president of sales, Ann Chamberlin, is delivering to the industry, and more importantly to travel advisors and their clients.
"Emerald River Cruises is actually a premium brand. Scenic River Cruises has always been our luxury brand," Chamberlin said to me aboard the Emerald Sun, as we sat tucked away in a corner of the Horizon Lounge, the ship's stylish cocktail bar area. "Scenic Spaceships are luxury, as the brand is truly all-inclusive, while Emerald Starship cruises are mostly inclusive.
"There's a misunderstanding that Emerald might be more value-oriented, when it's absolutely not," she said. Chamberlin spoke as though Emerald Cruises were an underdog brand that everyone has underestimated for years — perhaps they have?
We were sailing on the Lower Danube, visiting Serbia and Croatia on a roundtrip sailing from Budapest following the first ASTA Global River Cruise Expo. For four days, ships from several companies were placed side by side for the first time for travel advisors to inspect and then sail on afterward.
The Scenic Amber and the Emerald Sun were among the ships in Budapest for the conference, offering advisors a chance to see for themselves the main differences between Scenic and Emerald, a chance to learn how to sell the two different brands. The post-cruise, at least for Emerald's purposes, gave advisors the opportunity to experience the ship and its premium qualities firsthand: high-end accommodations featuring gourmet cuisine and immersive, active itineraries that enable guests to choose their own inclusions that will enhance their individual experience onboard.
"You might get a very good price or amenity or a deal when you book [Emerald], but it's about having that overall experience onboard and thinking, 'Wow, I was really taken care of,' or 'I can't believe that chef was so incredible,'" Chamberlin said. "All of these experiences are what we hope travel advisors' guests walk away with, to want to come back and book with us again."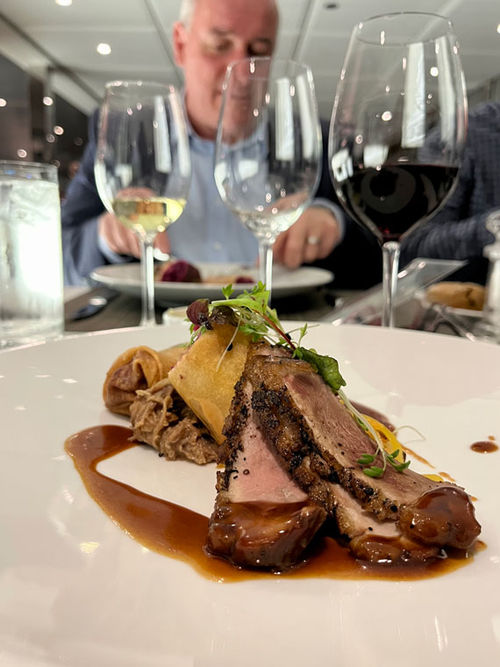 Gourmet cuisine aboard the Empress Sun features local ingredients and dishes with a connection to the country the ship is visiting. Photo Credit: Nicole Edenedo
Service onboard, activities on and off the ship and all-inclusive amenities are what set Scenic and Emerald apart from each other, while sailing routes and included gratuities are the areas where the two brands find common ground.
Scenic ships and Emerald ships sail the same major waterways in Europe — the Rhine, Main, Danube, Seine and Rhone rivers — but at times, as Scenic Group's director of national accounts Richard Hickey said, the two brands may call on different ports in order to provide certain onshore experiences.
"With the Emerald brand, you have an activities manager onboard, you've got included daily excursions that are active, you've also got Emerald Plus," some of which are onshore excursions that provide authentic, cultural experiences that are included, as well.
"There's also Discover More, and these are optional tours that clients pay for," Hickey added. "When you look at the Emerald experience, it gives your client freedom to choose, based on what they look for in a vacation."
The Rhine, Main and Danube are where a majority of Emerald Cruises and its larger Star Ships sail, going from the North Sea to the Black Sea. Smaller Emerald Starships sail in smaller waters, like the 130-guest Emerald Liberte sailing the South of France, the 112-guest Emerald Radiance sailing Portugal's Douro River, and the 84-guest Emerald Harmony, which sails the Mekong River in Southeast Asia.
Having experienced the Emerald product myself, I felt it was in every way a high-end, premium brand that would be a solid first choice for anyone in search of a luxurious experience. Don't get me wrong: a Scenic cruise package that includes a premium beverage package along daily restocking of the minibar fridge (got to have my Pringles!) is rather tempting. You don't even have to pedal your own bicycle during a Scenic shore excursion if you don't want to, as the line offers e-bikes (as opposed to Emerald's manually powered two-wheelers.
But with Emerald, you have the option of making your cruise as lush as you want it to be — as comfortable, all-inclusive and as active (or inactive) as you see fit. And that worked just fine for me.
That said, I am looking forward to taking a spin on a Scenic ship sometime soon (P.S., Ann: DM me!).
Updated: This report was updated on April 7 to include a statement from Ann Chamberlin emphasizing that Emerald is Scenic Group's premium brand while Scenic remains its luxury river line.