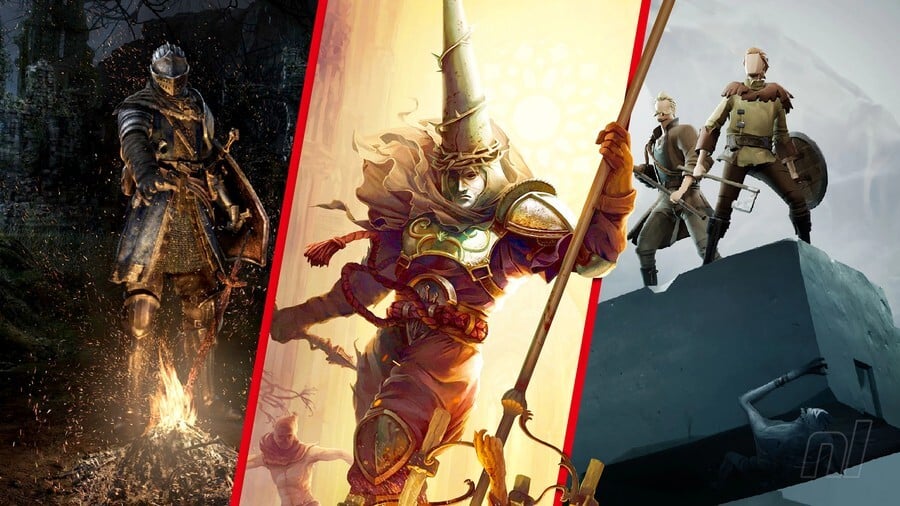 When Dark Souls launched back in 2011, it ushered in a new era of lore-filled and inscrutable combat-focused games that gave players the freedom to follow their own path and play style, but steadfastly refused to 'go easy' on them. Every encounter in FromSoftware's series, no matter how minor, has the potential to end in tears; if you blunder in mindlessly mashing buttons, you will be punished.

What defines a 'Soulslike', though? It's not just difficulty, although that's a part of it. Games that exhibit Dark Souls-style elements demand concentration and intent if you want to overcome the challenges they present. They can be 3D or 2D (side-on or top-down), but they typically include exacting combat against unforgiving enemies, large boss fights, the loss of reclaimable 'essence' or similar currency on death, and the freedom to explore different areas of the map, with your skill often being the only gate to progress down a specific path. Bonfires — or equivalent 'safe' zones that offer respite and restoration — are another key part of the Souls experience; that tension of risk vs. reward while inching through an enemy-filled environment on just a sliver of health, desperately hoping to find a bonfire around the next corner.
For the list below we've stuck to games which feature as many of those elements as possible, although several incorporate other systems and styles, or not-quite-all of the facets described above. Some inclusions are primarily associated with another genre (Metroidvania or roguelike, for example) but they feature Soulslike gameplay in some capacity. They might not fit the Souls mould perfectly, but everything below has a Soulslike flavour to a greater or lesser degree.
As with any sub-genre definition (again, see Metroidvania), there will be debate both healthy and circuitous over whether a given title qualifies for the category of Soulslike — which is fine. You may not totally agree with the list below, but rest assured that if you enjoy Dark Souls, you'll almost certainly enjoy these games thanks to shared ideas, elements and systems.
So, let's take a look — in no particular order — at the games on Switch that'll force you to git gud or go home.
---
There are plenty of games which fit the category but simply aren't good enough to recommend on Switch — games like Animus: Harbinger, Sinner: Sacrifice for Redemption, Fall of Light, or Hellpoint, for instance.
And then there are games that we simply haven't sampled ourselves — things like Eldest Souls. Let us know below if you think we've missed out a worthy Soulslike game on Switch, or if you're horrified and disgusted we've written for Soulslike rather than Souls-like a whole bunch of times.

This article is one of our Switch Essentials guides which cover a wide variety of genres, including the Best Switch FPS Games, the Best Switch RPGs, the Best Switch Games For Kids, the Best Switch Couch Co-Op Games and the Best Switch Fitness and Exercise Games. We can also help out hunting down the Best Switch Horror Games, the Best Switch Racing Games, the Best Switch Action-RPGs, the Best Nintendo Switch Roguelikes, Roguelites and Run-Based Games, the Best Free Switch Games, and even Games to Play After You've Finished Zelda: Breath of the Wild.
Whatever your favourite genre, we've got you covered: Strategy Games, Metroidvanias, Puzzle Games, Party Games, Online Multiplayer Games, Local Wireless Multiplayer Games, Shmups, Visual Novels, Fighting Games, Hidden Gems, 2D Platformers, 3D Platformers, Run and Gun Games, Sports Games, Beat 'Em Ups, Chill Games, Family Games, Retro-Inspired Games, Short Games, Card Games and Deck-builders, Flight Sim and Space Combat, Point and Click Adventure Games, and the Best Switch Exclusives, as well as Every Arcade Archives Game, Every ACA Neo Geo Game, Every SEGA AGES Game On Switch, and the Best Switch Collections And Compilations.
If you're looking for the best Switch games regardless of genre, our reader-voted selection of the Best Nintendo Switch Games should help you out, and you can also find the Best Nintendo Switch Games of 2017, 2018, 2019, and 2020. And finally, if you're interested in other Nintendo consoles and retro games, check out the Best Game Boy Games, Best Nintendo DS Games, Best Nintendo 3DS Games, Best SNES Games, Best N64 Games, Best GameCube Games, and Best Wii Games, as well as Every Nintendo Switch Online NES Game and Every Nintendo Switch Online SNES Game.