Daniil Medvedev vs Stefanos Tsitsipas in Australian Open 2022 semifinal LIVE
Australian Open 2022 Men's Singles Semifinals, Berrettini vs Nadal, Tsitsipas vs Medvedev Highlights: Rafa Nadal stands one win away from a men's record 21st Grand Slam title after overpowering Italian seventh seed Matteo Berrettini 6-3, 6-2, 3-6, 6-3 on Friday to reach the Australian Open final. With rain pouring down outside, the 35-year-old Nadal made a fast start under the closed roof of the Rod Laver Arena and took control by breaking Wimbledon finalist Berrettini's serve early in each of the first two sets. Berrettini finally came alive in the third and started forcing Nadal back with his forehands, a break of serve forcing a fourth set. The Spaniard got the crucial break in the eighth game as the Italian's unforced errors increased and another mistake allowed Nadal to convert his first matchpoint after a battle that lasted two hours and 55 minutes. (Read Full Report)
In the other semifinal, US Open champion Daniil Medvedev plays Stefanos Tsitsipas as he bids to become the first man in the Open era to claim a second Grand Slam title immediately after his maiden triumph.
Tsitsipas has his eyes set on becoming the first Greek Grand Slam champion, but the French Open finalist will need to be at his best to defeat an indefatigable Medvedev, who saved a match point to get past Felix Auger-Aliassime in the quarters. Tsitsipas has lost six of his eight matches with Russia's Medvedev, including a semi-final defeat at Melbourne Park last year.
Live Blog
Australian Open 2022 Men's Semifinals, Rafael Nadal vs Matteo Berrettini, Daniil Medvedev vs Stefanos Tsitsipas Live: Catch all the Live action from Melbourne's Rod Laver Arena in Australia.
Updates from Australian Open 2022 semifinal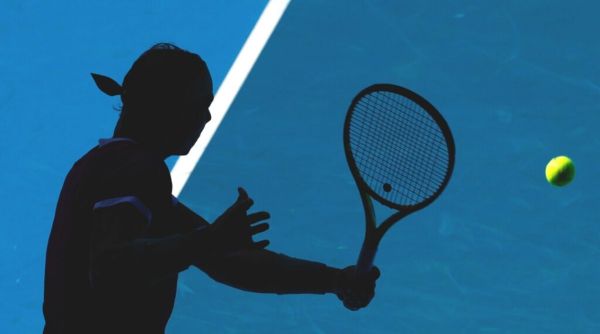 Rafael Nadal of Spain makes a forehand return to Adrian Mannarino of France during their fourth round match at the Australian Open tennis championships in Melbourne, Australia, Sunday, Jan. 23, 2022. (AP Photo/Hamish Blair)
Australian Open men's singles semifinals: A shot at history
Even before he hit his first ball at this year's Australian Open, Rafael Nadal knew he had an open door to set the men's record for most career Grand Slam singles titles.
So far he hasn't let it close.
Nadal plays Matteo Berrettini in one semifinal on Friday at Melbourne Park, knowing he's potentially two match wins from a 21st major title. He's tied for the record of 20 with Roger Federer, who is recovering from right knee surgery, and Novak Djokovic, who was deported from Australia on the eve of the tournament following an 11-day visa saga over his decision not to be vaccinated for COVID-19.
In the other semifinal, Daniil Medvedev plays Stefanos Tsitsipas in a rematch of their 2021 Australian Open semifinal. Medvedev won last year's semifinal, then lost to Djokovic in the final.
After Nadal's tough five-set win over Denis Shapovalov on Tuesday, he looked to take away some of the pressure of that 21st major.
© IE Online Media Services Pvt Ltd